TORONTO, Nov. 17, 2021 – Wild bees have a critical role to play in climate change resilience, which makes finding out why they are declining more important. As a winner of this year's NSERC E.W.R. Steacie Memorial Fellowship, York University Associate Professor Sandra Rehan is tackling this issue through her work in bee genomics, molecular ecology and behavioural genetics.
The Steacie Fellowships are awarded annually to early-stage academic researchers in natural sciences and engineering through the Natural Sciences and Engineering Research Council of Canada. The prestigious two-year fellowship comes with $250,000 towards research support.
The Fellowship will help Rehan expand her research on novel genomic methods to help identify challenges and opportunities to conserve and increase diverse bee populations in cities. Rehan is a leader in research areas, including the nutritional and habitat needs of wild bees, how land use changes affect their habitats, the important of urban planning approaches, the diversity of their microbiomes, and the role of disease and pathogens.
"This award is a terrific recognition of Sandra's trailblazing research into the genetics and ecology of wild bees, all to understand how to protect them. She is most deserving of this award," said Rui Wang, dean of the Faculty of Science.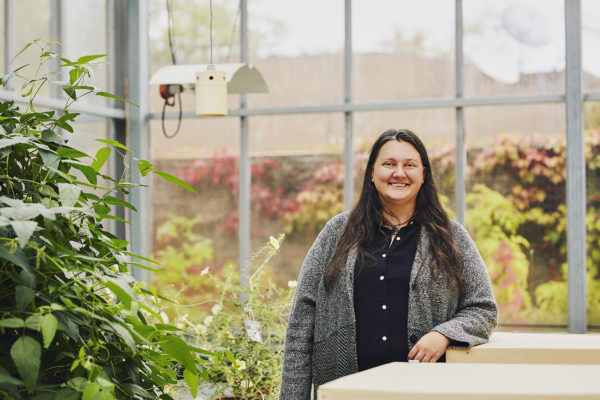 An international leader in the behavioural genetics and molecular ecology of bees, Rehan is advancing several long-standing questions about wild bee health and to develop new policies to help protect them.
She has already developed critical insights into social evolution and pollinator health. Her work on sociogenomics – the study of genomic and epigenomic factors that influence and are influenced by social behaviour – is at the forefront of evolutionary and comparative animal biology.
"The Steacie Memorial Fellowship is a wonderful opportunity, and I am very excited about the additional resources to expand the scope and impact of my research," said Rehan of the Department of Biology, Faculty of Science. "Not only does the Fellowship elevate the profile of this critical research, but it also increases the ability to expand my team, train additional postdocs and students, and develop new collaborations. This award will also help in my work as an advocate for woman in science and advancing wild bee conservation."
Watch the NSERC E.W.R. Steacie Memorial Fellowship ceremony live via Facebook and YouTube at 1:30 p.m. EST.
Previous research has yielded several important discoveries. Rehan's study of social behaviour in bees found that it evolved from an accumulation of pro-social traits starting in solitary bees. It began first as bees took care of their young and evolved to include group associations and social life. Her team has also led bee genomic studies including advances in wild bee metagenomics and microbiome research.
Rehan also identified the core genes underlying bee aggression through a comprehensive cross-species comparison and is advancing functional genomics to understand key candidate genes for aggression and maternal care. Her work on North American small carpenter bee, Ceratina calcarata, is now used widely in the study of social insects. Her team has produced numerous genomic tools and cutting-edge experiments to elevate this as a model system for the study of social evolution and pollinator health.
In addition, she is an international leader in the field of maternal manipulation of worker-like daughter bees. Through her work varying the amount of pollen these daughter bees are fed, she has developed a model for studying maternal investment, sex allocation, and inclusive fitness of worker production.
To date, Rehan has authored more than 80 publications in journals such as Nature Communications, PNAS and Molecular Ecology.
-30-
York University is a modern, multi-campus, urban university located in Toronto, Ontario. Backed by a diverse group of students, faculty, staff, alumni and partners, we bring a uniquely global perspective to help solve societal challenges, drive positive change and prepare our students for success. York's fully bilingual Glendon Campus is home to Southern Ontario's Centre of Excellence for French Language and Bilingual Postsecondary Education. York's campuses in Costa Rica and India offer students exceptional transnational learning opportunities and innovative programs. Together, we can make things right for our communities, our planet, and our future.
Media Contact:
Sandra McLean, York University Media Relations, 416-272-6317, sandramc@yorku.ca