TORONTO, February 16, 2022 – York University will be celebrating Black artists with a live broadcast of emotion-evoking and thought-provoking spoken word, R&B and gospel music performances from the Tribute Communities Recital Hall on Feb. 23.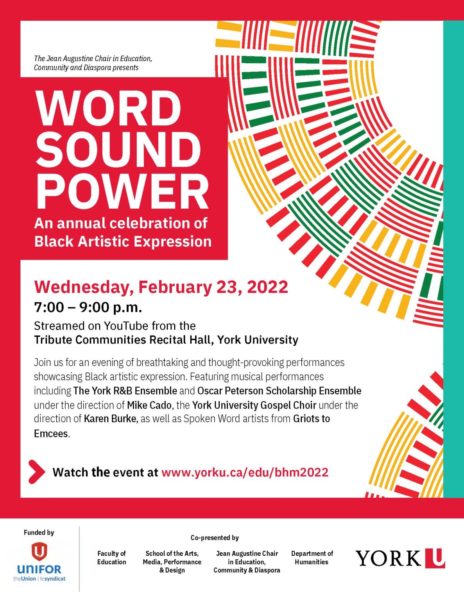 Word Sound Power: An Annual Celebration of Black Artistic Expression is hosted by the Jean Augustine Chair in Education, Community and Diaspora, in the Faculty of Education.
"This annual event during Black History Month is to highlight the contribution of Jean Augustine to ensuring national recognition of African people's presence in Canada. It is a great opportunity to showcase York's Black artists and their creativity in music and poetry, while offering a taste of their talents to various audiences," says Professor Carl James, the Jean Augustine Chair.
Featured performances will include the York University R&B Ensemble and the Oscar Peterson Scholarship Ensemble, directed by Professor Mike Cadó, and the York University Gospel Choir directed by Professor Karen Burke – both from the Department of Music in the School of the Arts, Media, Performance and Design.
Student spoken word performers from the Humanities course Griots to Emcees: Examining Culture, Performance & Spoken Word, will also take the stage to showcase African storytelling traditions, to contemporary global evolutions of lyricism and spoken word.
Poet, journalist and educator, El Jones, will be a special speaker – she is an associate professor of Canadian and Political Science at Mount Saint Vincent University in Halifax, N.S.
Remarks will be offered by Robert Savage, Dean, Faculty of Education; Humanities Professor Andrea Davis, Special Advisor, Anti-Black Racism Strategy, Faculty of Liberal Arts & Professional Studies; and the Honourable Jean Augustine, the first Black woman elected to the Parliament of Canada, and champion of the unanimous vote in 1995 that saw February designated as Black History Month.

WHAT: Word Sound Power: An Annual Celebration of Black Artistic Expression
WHO: York University R&B and Oscar Peterson Scholarship ensembles led by Professor Mike Cadó; York University Gospel Choir led by Professor Karen Burke; and spoken word performances by students from Humanities course Griots to Emcees
WHEN: Wednesday, Feb. 23, 2022 from 7 to 9 p.m.
WHERE: Live streaming via YouTube
-30-
York University is a modern, multi-campus, urban university located in Toronto, Ontario. Backed by a diverse group of students, faculty, staff, alumni and partners, we bring a uniquely global perspective to help solve societal challenges, drive positive change and prepare our students for success. York's fully bilingual Glendon Campus is home to Southern Ontario's Centre of Excellence for French Language and Bilingual Postsecondary Education. York's campuses in Costa Rica and India offer students exceptional transnational learning opportunities and innovative programs. Together, we can make things right for our communities, our planet, and our future.
Media Contact:
Gloria Suhasini, York University Media Relations, 647-463-4354, suhasini@yorku.ca