Annual event supported by Centre for Jewish Studies at York
TORONTO, Oct. 22, 2020 –The Canadian Jewish Literary Awards is honouring nine outstanding Jewish themed works this year, with an online presentation ceremony on Oct. 25, at 2p.m.
Now in its sixth year, the Awards program recognizes Jewish writing in fiction,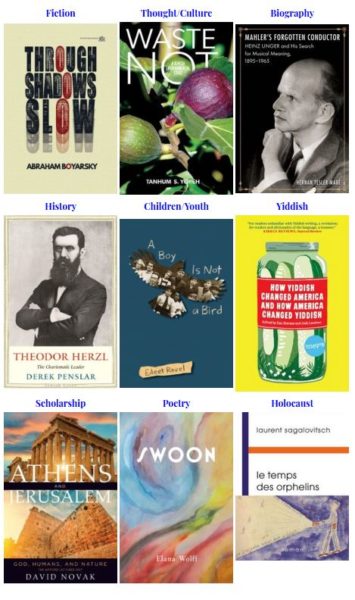 biography, Jewish thought and culture, poetry, history, books for children and youth, Yiddish, scholarship, and Holocaust categories.
"The Canadian Jewish Literary Awards has become an important part of the Canadian Jewish and cultural calendars, with the support of York University, a welcoming home for books, creative endeavors, and scholarly achievement," said the Jury Chair, Edward Trapunski. "The Israel and Golda Koschitzky Centre for Jewish Studies at York University provides the infrastructure so that the Awards can thrive and succeed."
Annually, the celebratory event had been organized at the Tribute Communities Recital Hall at York, attracting audiences and authors from around the world. This year, due to the COVID-19 pandemic, the presentation ceremony has gone virtual, and will be available at the Awards website through its YouTube channel.
WHAT: 2010 Canadian Jewish Literary Awards ceremony
WHEN: Sunday, Oct. 25, 2020, 2 p.m.
WHERE: Online, via the Canadian Jewish Literary Awards YouTube channel
WHO:
Fiction: Abraham Boyarsky for Through Shadows Slow (8th House Publishing)
Jewish Thought and Culture Tanhum Yoreh for Waste Not: A Jewish Environmental Ethic (SUNY Press)
Biography: Hernan Tesler-Mabé for Mahler's Forgotten Conductor: Heinz Unger and His Search for Jewish Meaning, 1895–1965 (Yale University Press)
History: Derek Penslar for Theodor Herzl: The Charismatic Leader (Yale University Press)
Children/Youth: Edeet Ravel for A Boy is Not a Bird (Groundwood Books)
Yiddish: Ilan Stavans and Josh Lambert, editors, for How Yiddish Changed America and How America Changed Yiddish (Restless Books)
Scholarship: David Novak for Athens and Jerusalem: God, Humans, and Nature (University of Toronto Press)
Poetry: Elana Wolff for Swoon (Guernica Editions)
Holocaust: Laurent Sagalovitsch for Le Temps des orphelins (Buchet/Chastel)
York University champions new ways of thinking that drive teaching and research excellence. Our students receive the education they need to create big ideas that make an impact on the world. Meaningful and sometimes unexpected careers result from cross-disciplinary programming, innovative course design and diverse experiential learning opportunities. York students and graduates push limits, achieve goals and find solutions to the world's most pressing social challenges, empowered by a strong community that opens minds. York U is an internationally recognized research university – our 11 faculties and 25 research centres have partnerships with 200+ leading universities worldwide. Located in Toronto, York is the third largest university in Canada, with a strong community of 53,000 students, 7,000 faculty and administrative staff, and more than 300,000 alumni.
Media contact:
Gloria Suhasini, York University Media Relations, 647-463-4354, suhasini@yorku.ca