York Lions will host Dahlgren's Diabeauties Night to support children with Type 1 diabetes
TORONTO, November 15, 2019 – York University Lions will face Guelph Gryphons in their hockey game tomorrow, Nov. 16, with a special purpose – to spread awareness about diabetes. The free admission York Lions Men's Hockey Diabetes Awareness & Dahlgren's Diabeauties Game will take place at Canlan Ice Sports located on  York's Keele campus.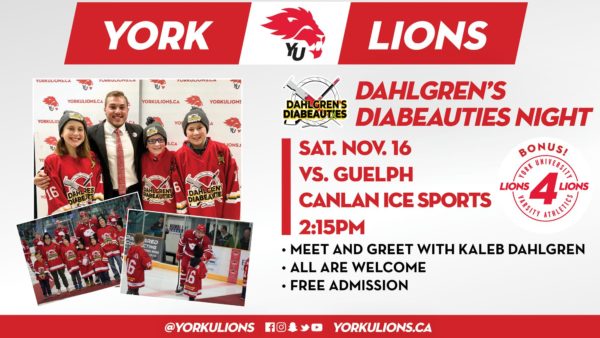 Dubbed as Dahlgren's Diabeauties Night, the game will be preceded by an on-ice presentation by Lions forward Kaleb Dahlgren, who lives with Type 1 diabetes.
"I want the children with Type 1 diabetes to meet someone who has gone through what they are going through and help them understand that having diabetes does not stop them from living their lives to the absolute fullest," says Dahlgren, who founded the advocacy program Dahlgren's Diabeauties to encourage children with diabetes to pursue their dreams and not let diabetes get in their way.
A Humboldt Broncos crash survivor, Dahlgren will also sign pictures and photographs with attendees to the game, during the second intermission.
WHAT: The York Lions Men's Hockey Diabetes Awareness & Dahlgren's Diabeauties Game
WHO: Humboldt Broncos crash survivor and York Lions Men's Hockey forward Kaleb Dahlgren
WHEN: Saturday, November 16, 2019, 2:15 p.m.
WHERE: Canlan Ice Sports, 989 Murray Ross Parkway, York University Keele Campus (building number 1 on the map)
York University champions new ways of thinking that drive teaching and research excellence. Our students receive the education they need to create big ideas that make an impact on the world. Meaningful and sometimes unexpected careers result from cross-disciplinary programming, innovative course design and diverse experiential learning opportunities. York students and graduates push limits, achieve goals and find solutions to the world's most pressing social challenges, empowered by a strong community that opens minds. York U is an internationally recognized research university – our 11 faculties and 25 research centres have partnerships with 200+ leading universities worldwide. Located in Toronto, York is the third largest university in Canada, with a strong community of 53,000 students, 7,000 faculty and administrative staff, and more than 300,000 alumni.
York U's fully bilingual Glendon Campus is home to Southern Ontario's Centre of Excellence for French Language and Bilingual Postsecondary Education.
Media Contact: Gloria Suhasini, York University Media Relations, 647.463.4354, suhasini@yorku.ca