TORONTO, May 24, 2019 – York University Libraries will join the City of Toronto in observing Digital Literacy Week, May 27 to June 1. A panel discussion at 1pm on Monday will focus on false information that spreads online, kicking off a week of digital-literacy themed events at York's Keele Campus.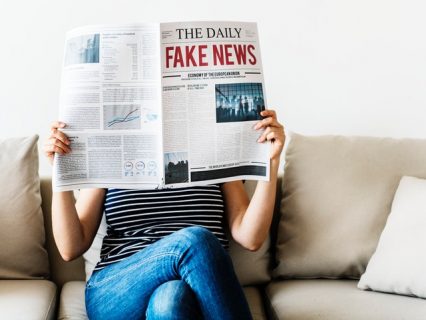 The panel, "Fake News and the 2019 Federal Election", will be moderated by Anna St. Onge, director, Digital Scholarship Infrastructure, York University Libraries. Panellists include an award-winning journalist, a noted political scholar, and two librarians with expertise in digital and scholarly publishing.
Digital Literacy Week is a collaboration between the City of Toronto, Toronto Public Library and an innovative and digitally inclusive group of more than 30 local organizations.
WHAT: Fake News and the 2019 Federal Election, a panel discussion
WHEN: Monday, May 27, from 1pm to 2:30pm
WHERE: Scott Library – Collaboratory (2nd floor), York University Keele Campus (Number 25 on the map.)
PANELLISTS:
Gail Cohen, legal journalist & former Journalist-in-Residence at Osgoode Hall Law School, will focus on the realities and challenges for journalists covering elections in the age of social media and fake news.
John Dupuis, Scholarly Publishing Librarian – York University Libraries, will focus on how the Liberal and Conservative parties might project their campaigns for the upcoming election, analyzing climate change as a key issue to address and the carbon tax as the preferred option by the Liberals and the Conservatives opposing it.
David Montgomery, Digital Scholarship Librarian – York University Libraries, will discuss the wider ramifications of the term 'digital exhaust' referring to digital surplus and its relevance to the fake news debate
Dennis Pilon, Associate Professor & Undergraduate Program Director – Department of Politics, York University, will focus on how the digital realm has become a new frontier for conventional electoral politics and the conservatives are proving to be energetic pioneers in developing new techniques to reach voters and affect agenda control. He will also discuss the struggle researchers face in getting reliable data due to the scope of such strategy.
York University champions new ways of thinking that drive teaching and research excellence. Our students receive the education they need to create big ideas that make an impact on the world. Meaningful and sometimes unexpected careers result from cross-disciplinary programming, innovative course design and diverse experiential learning opportunities. York students and graduates push limits, achieve goals and find solutions to the world's most pressing social challenges, empowered by a strong community that opens minds. York U is an internationally recognized research university – our 11 faculties and 25 research centres have partnerships with 200+ leading universities worldwide. Located in Toronto, York is the third largest university in Canada, with a strong community of 53,000 students, 7,000 faculty and administrative staff, and more than 300,000 alumni.
York U's fully bilingual Glendon Campus is home to Southern Ontario's Centre of Excellence for French Language and Bilingual Postsecondary Education.
Media Contact:
Gloria Suhasini, York University Media Relations, 647-463-4354, suhasini@yorku.ca