TORONTO, May 24, 2019 – A 27-metre high solar chimney, 3D printing lab, and uniquely designed architecture will welcome visitors this weekend as York University opens its doors to Doors Open Toronto. Visitors will be able to explore the Schulich School of Business' newest building, the Rob & Cheryl McEwen Graduate Study and Research Building, as well as York's Bergeron Centre for Engineering Excellence on May 25-26 as part of The 20th annual edition of Doors Open Toronto event. The free event showcases more than 150 of the city's most architecturally and culturally significant buildings.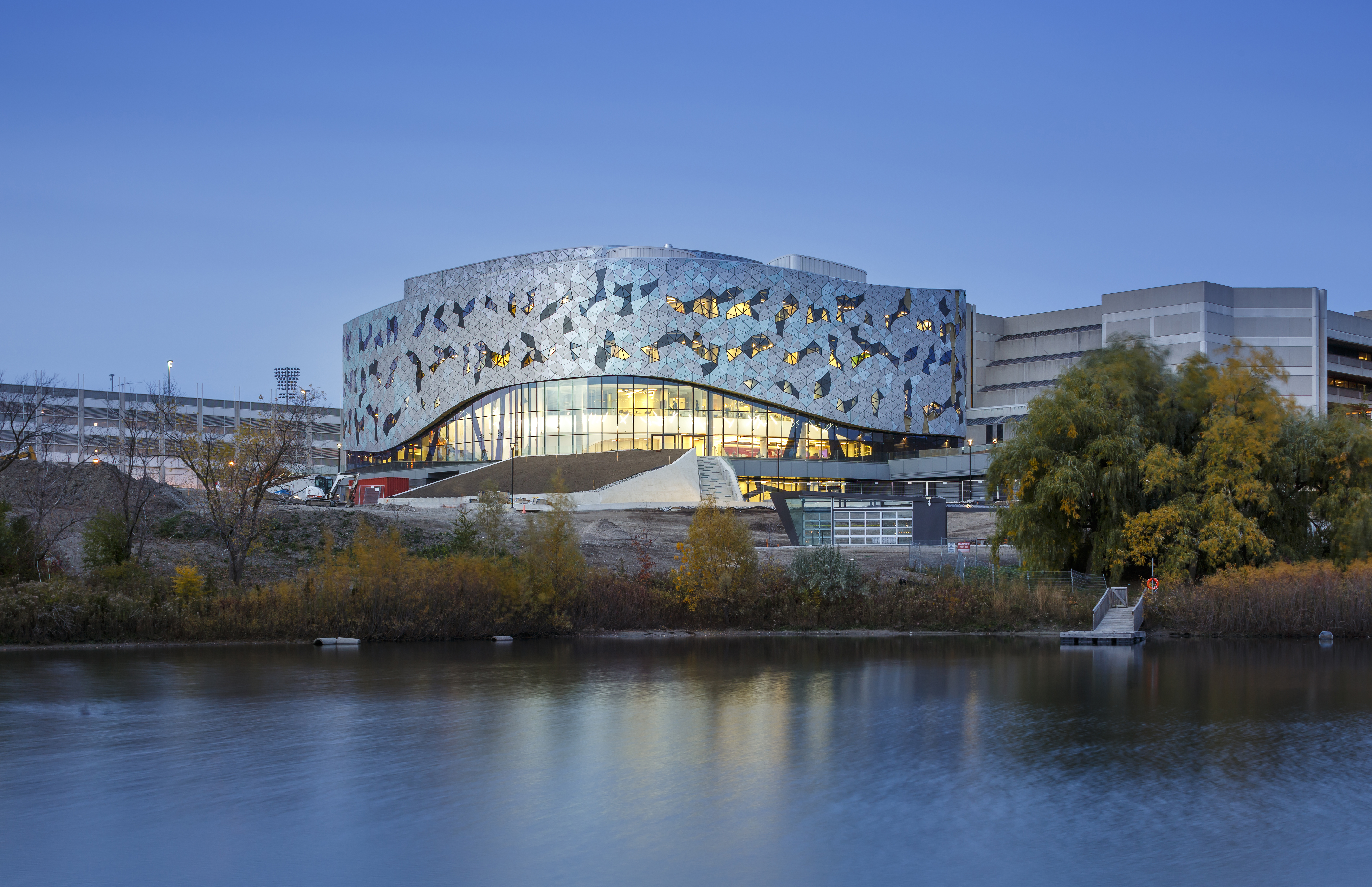 York University's Bergeron Centre for Engineering Excellence has no lecture halls, and has bright open spaces for collaboration. Modelled after a cloud, the building's exterior is covered in geometric windows and panels, designed using the Penrose mathematical pattern in which no angle is the same. Visitors will have the opportunity to visit the 3D printing lab and be able to take home a small 3D print of the building (limited quantities). Lassonde School of Engineering students will also lead a guided tour through the building and labs.
The Rob and Cheryl McEwen Graduate Study & Research Building was designed by award-winning architectural firm Baird Sampson Neuert. The 67,000sq ft structure stands as one of the most environmentally sustainable and socially responsible academic buildings in North America and is one of the first to use the principles of Thermally Active Building Systems to achieve LEED Gold certification. Schulich's new building also features a 27-metre-high solar chimney to maximize natural ventilation and make use of renewable energy. Visitors will be free to walk through the building, participate in interactive sessions and learn about the building's unique design features during a guided tour.
What: Doors Open Toronto at York University
When: May 25-26 at 10 a.m. to 5 p.m.
Where: Rob and Cheryl McEwen Graduate Study and Research Building and Bergeron Centre for Engineering Excellence
 York University champions new ways of thinking that drive teaching and research excellence. Our students receive the education they need to create big ideas that make an impact on the world. Meaningful and sometimes unexpected careers result from cross-disciplinary programming, innovative course design and diverse experiential learning opportunities. York students and graduates push limits, achieve goals and find solutions to the world's most pressing social challenges, empowered by a strong community that opens minds. York U is an internationally recognized research university – our 11 faculties and 25 research centres have partnerships with 200+ leading universities worldwide. Located in Toronto, York is the third largest university in Canada, with a strong community of 53,000 students, 7,000 faculty and administrative staff, and more than 300,000 alumni.
York U's fully bilingual Glendon Campus is home to Southern Ontario's Centre of Excellence for French Language and Bilingual Postsecondary Education.
 Media Contact: Anjum Nayyar, York University Media Relations, 416-736-2100 ext. 44543