TORONTO, March 29, 2017 – Learning about different societies around the world can teach non-indigenous Canadians a lot when it comes to indigenous people in Canada. That is what Justice Murray Sinclair, senator and former chair of the Truth and Reconciliation Commission, will discuss Thursday at York University.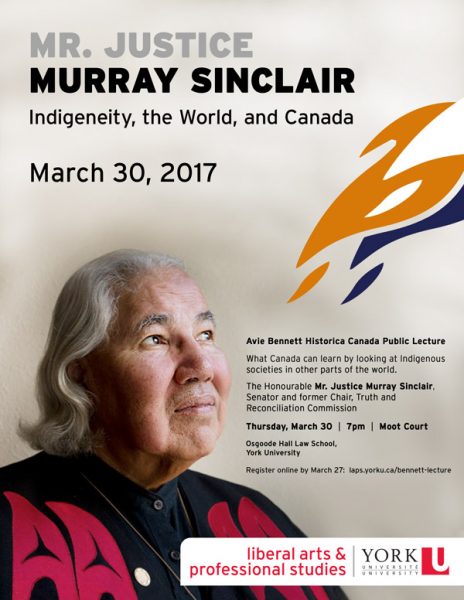 His talk, "Indigeneity, the World, and Canada," will look at how learning from other societies can positively impact relations between indigenous and non-indigenous people.
WHAT: Avie Bennett Historica Canada Public Lecture in Canadian History
WHEN: Thursday, March 30 at 7pm
WHERE: Moot Court, Ignat Kaneff Building, Osgoode Hall Law School, Keele campus, York University. (Number 32 on the map.)
The Avie Bennett Historica Canada Public Lecture in Canadian History was established in 2004 by the Historica Foundation of Canada and endowed by York Chancellor Emeritus Avie Bennett. Its purpose is to promote the study of Canada's heritage and ensure the academic vitality of the discipline.
 - 30 -
York University is known for championing new ways of thinking that drive teaching and research excellence. Our students receive the education they need to create big ideas that make an impact on the world. Meaningful and sometimes unexpected careers result from cross-discipline programming, innovative course design and diverse experiential learning opportunities. York students and graduates push limits, achieve goals and find solutions to the world's most pressing social challenges, empowered by a strong community that opens minds. York U is an internationally recognized research university – our 11 faculties and 26 research centres have partnerships with 200+ leading universities worldwide. Located in Toronto, York is the third largest university in Canada, with a strong community of 53,000 students, 7,000 faculty and administrative staff, and more than 295,000 alumni.York U's fully bilingual Glendon campus is home to Southern Ontario's Centre of Excellence for French Language and Bilingual Postsecondary Education.
Media Contact:
Sandra McLean, York University Media Relations, 416-736-2100 ext. 22097, sandramc@yorku.ca