App content aims to inspire students to continue education in STEM subjects
TORONTO, March 28, 2017 –- With growing opportunities in STEM (science, technology, engineering and mathematics), Professor Sushanta Mitra and his team at York University's Lassonde School of Engineering have partnered with the public and private sector to create learning modules built on Quanser's trademarked qdex™ app development platform, specifically designed for rich STEM content. This project leverages modern mobile-based technology to engage high school students in subject areas they typically find challenging. By using cell phone and tablet technology that is native to this generation, Mitra and the partners hope to see better academic success and inspire the students to continue their education in STEM subjects.
The content is being created with the help of student developers with key curriculum inputs from teachers at York Region's St. Robert's School in Markham.
"Often we have the best and brightest students coming into our programs from grade 12 but after their first and second year, many are not able to keep up. We believe that we're not providing with them the right tools and mechanisms to make them successful right from high school," says Mitra. "The new qdex™ platform is an effective tool for disseminating knowledge to grade 11 and 12 students so they're prepared when they come to university. We believe this is a way to make every student more successful."
This initiative is funded by Ontario Centres of Excellence (OCE) AdvancingEducation program program aimed at connecting Ontario's public education system with companies to test and demonstrate innovate products and technology. York University's Academic Innovation Fund also contributed to the initiative. A partnership between the Ministry of Government and Consumer Services (MGCS) and OCE, AdvancingEducation brings innovation into classrooms across the province by matching needs in the public education system with innovative products and services from Ontario companies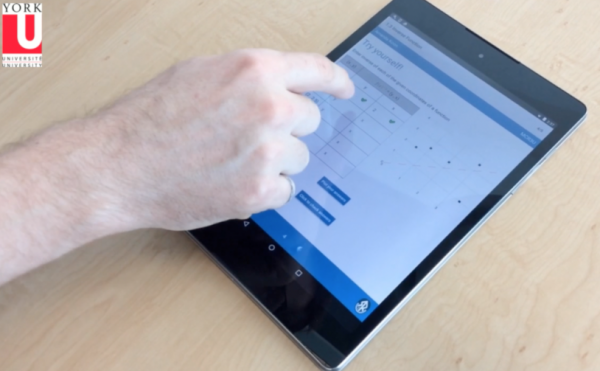 "We know that even high school students who excel in mathematics can struggle with advanced STEM concepts at the post-secondary level," says Dr. Tom Corr, OCE's President and CEO. "This partnership between York's Lassonde School of Engineering, St. Robert Catholic High School and Quanser is now creating a personalized experiential learning tool that bridges the gap between high school math and post-secondary STEM using popular devices like smart phones and tablets."
Together with Quanser's qdex™ technology, a unique mobile content development platform allows phones and tablets to do advanced engineering-style computing.
"Quanser is a proud industry partner for this important initiative. We believe that Lassonde School's innovative approach to education will be the ideal platform to realize the full potential of our qdex™ technology," states Paul Gilbert, CEO of Quanser.
The project's first target is math content that will better prepare students in Grade 12 to succeed in university-level engineering and science programs. The modules allow students to experience real-world applications of math and science concepts.
"St. Robert students have an incredible opportunity to develop, explore and utilize innovative module applications that will better enable them to excel in post-secondary STEM applications," said Patricia Preston, Director of Education, York Catholic District School Board. "St. Robert's students have been using the qdex™ learning platform for nearly one month with much success and it is our hope that more students will be inspired to advance their studies and choose careers in STEM."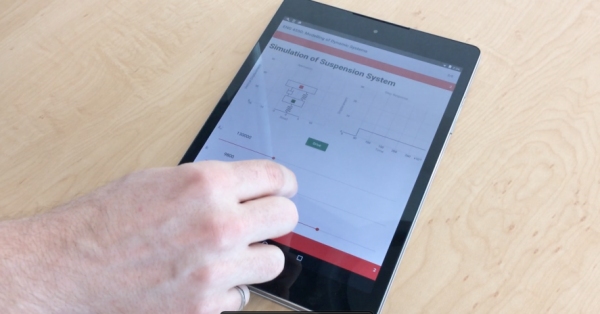 York University is known for championing new ways of thinking that drive teaching and research excellence. Our students receive the education they need to create big ideas that make an impact on the world. Meaningful and sometimes unexpected careers result from cross-discipline programming, innovative course design and diverse experiential learning opportunities. York students and graduates push limits, achieve goals and find solutions to the world's most pressing social challenges, empowered by a strong community that opens minds. York U is an internationally recognized research university – our 11 faculties and 26 research centres have partnerships with 200+ leading universities worldwide. Located in Toronto, York is the third largest university in Canada, with a strong community of 53,000 students, 7,000 faculty and administrative staff, and more than 295,000 alumni.York U's fully bilingual Glendon campus is home to Southern Ontario's Centre of Excellence for French Language and Bilingual Postsecondary Education.
OCE drives the commercialization of cutting-edge research across key market sectors to build the economy of tomorrow and secure Ontario's global competitiveness. In doing this, OCE fosters the training and development of the next generation of innovators and entrepreneurs and is a key partner with Ontario's industry, universities, colleges, research hospitals, investors and governments. A champion of leading-edge technologies, best practices and research, OCE invests in sectors such as advanced health, digital media and information communications, advanced manufacturing and materials, and cleantech including energy, environment and water. OCE is a key partner in delivering Ontario's Innovation Agenda as a member of the province's Ontario Network of Entrepreneurs (ONE). Funded by the Government of Ontario, the ONE is made up of regional and sector-focused organizations and helps Ontario-based entrepreneurs rapidly grow their company and create jobs.
Quanser is passionate about engineering education. For more than 25 years, Markham based Quanser has partnered with over 2,500 world-class academic institutions to give students enriching, hands-on, educational experiences. Quanser has proven leadership in today's most important modern engineering advancements including unmanned vehicles, smart grid technology, space exploration, bio-medical and the Internet of Things. Quanser has pioneered the creation of transformative lab concepts and innovative products and has coupled them with modern curriculum for engineering disciplines including robotics, mechatronics, and controls. Quanser has enabled over a million students from around the world gain real world experience and graduate as the strongest and most influential generation of engineering leaders.

Media contacts:
Anjum Nayyar, Media Relations, York University 416 736 2100 ext. 44543
Andrew Robertson, Manager, Media Relations, Ontario Centres of Excellence 416 861 1092 ext. 1092