TORONTO, NOV. 11 – The York University Lions will take on the Cape Breton University Capers in the fourth quarter-final match of the 2015 Canadian Interuniversity Sport (CIS) Men's Soccer Championship Thursday, Nov. 12 at 7pm at York Stadium, York University.
Earlier in the day, the McMaster University Marauders will go up against the Université du Québec à Montréal Citadins at 11am, the University of Victoria Vikes will tackle the University of New Brunswick Varsity Reds at 1:30pm and the University of Toronto Varsity Blues will take on the University of British Columbia Thunderbirds at 4pm.
The CIS championship will run from Nov. 12 to 15 at York University.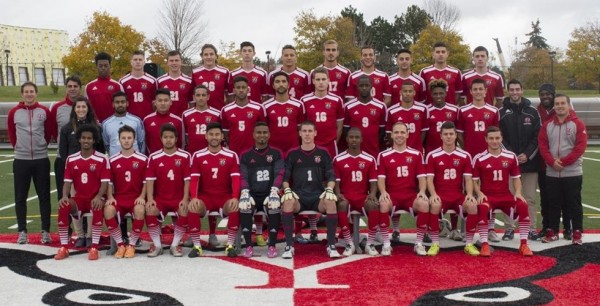 "We have high expectations," says Lions men's soccer Master Coach Carmine Isacco. "We have a lot of really good teams competing here over the next four days."
A total of eight teams from across Canada will compete for a chance at winning the Sam Davidson Memorial Trophy. The Lions are out to win the trophy for the second straight year. Last year, they beat the McMaster Marauders 1-0 in the CIS championship final.
In an effort to involve the community in the excitement, two showcase games will be played at the York Stadium on Friday, Nov. 13. At 4pm, it will be Toronto Football Club Jr Academy vs Richmond Hill Soccer Club U16 and at 6pm Toronto Football Club Sr Academy vs Vaughan Soccer Club U17. Local schools and community groups have also been invited to come and watch the games.
A soccer clinic will take place Saturday, Nov. 14 at 6pm with Asante Soccer Academy for its U8 to U14 players at York Stadium.
For the tourney schedule, visit the yorkulions.ca/defend website.
For a list of Lions men's soccer players and where they hail from, including Vaughan, Markham, Newmarket, Toronto, Richmond Hill, Mississauga, Brampton, Aurora, North York and Bradford, visit the 2015 Men's Soccer Roster web page.
York University is known for championing new ways of thinking that drive teaching and research excellence. Our 52,000 students receive the education they need to create big ideas that make an impact on the world. Meaningful and sometimes unexpected careers result from cross-discipline programming, innovative course design and diverse experiential learning opportunities. York students and graduates push limits, achieve goals and find solutions to the world's most pressing social challenges, empowered by a strong community that opens minds. York U is an internationally recognized research university – our 11 faculties and 24 research centres have partnerships with 200+ leading universities worldwide.
-30-
Media Contact:
Sandra McLean, York University Media Relations, 416-736-2100 ext. 22097 / sandramc@yorku.ca