TORONTO, April 20, 2022 – This year's Earth Day follows the publication of three reports by the United Nation's Intergovernmental Panel on Climate Change which highlight the need for governments, businesses and communities to make changes now before it's too late.
This year's Earth Day theme, Invest in Our Planet, is a call for action. Many York University professors are already examining the impacts of climate change on the environment and our lives now, and what changes are needed going forward.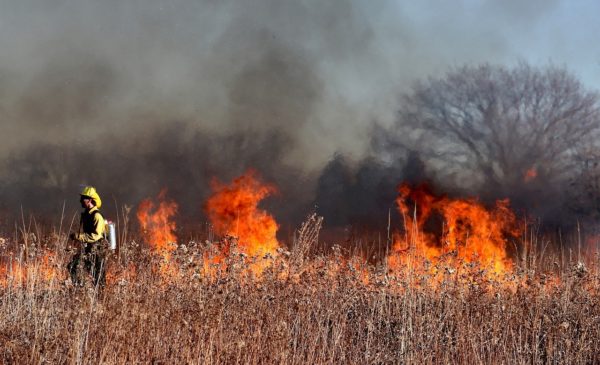 They are available to talk about a broad range of topics including indoor air quality, what climate warming is doing to our freshwater lakes, how climate change goes hand-in-hand with more wildfires, how city dwellers can help build pollinator habitats, how people can adapt to climate-activated risks, climate change policy and whether it's too late to retreat from floodplains.
The following experts are available:
Eric Miller, director of the Ecological Footprint Initiative at York and is an expert in the economics of environmental issues, can discuss:
Ecological Footprint of Canadians and Ontarians in a global context
Jobs and greenhouse gases associated with government and consumer spending
Sustainability built into government budgets, are we seeing it and should there be more of it
How can Canada achieve net-zero emissions
How the war in Ukraine is creating rising food costs and shortages as food supply chains are squeezed
How Canada exports goods that use a lot of natural resources, but imports resource light goods creating an imbalance of resource use, and what needs to happen
Sapna Sharma, an associate biology professor in the Faculty of Science and an expert on environmental stressors on lakes, can speak about:
How climate change is affecting freshwater lakes in winter and summer
Warming surface temperatures of lakes and why that's a problem
Issues surrounding increasing algae blooms and why it's happening
How invasive species are squeezing out native species of fish
Water quality, freshwater fisheries, and environmental stressors.
Sheila Colla, assistant professor in the Faculty of Environmental and Urban Change and an expert on bees and endangered species, can comment on:
The impact of climate change on bees and other pollinators
Endangered wildlife
Environmental policy and what needs to change
Sustainable agriculture, pesticides, and habitat loss
How to create bee friendly gardens
Mark Winield is a professor in the Faculty of Environmental and Urban Change and co-chair of the Sustainable Energy Initiative. He can comment on:
Climate change policy at the federal and provincial level
Carbon pricing, low-carbon transition, clean technology strategies
Environmental assessments and pipelines
Environmental policy and electric cars
Trevor VandenBoer, a professor in the Department of Chemistry, Faculty of Science, and an expert in environmental chemistry and pollution, can talk about:
Indoor versus outdoor air quality and how to improve indoor air
The climate-related impacts of nitrogen from agriculture and whether they are degrading air quality
How climate and air quality create challenges for a transition to net-zero
Nirupama Agrawal, a professor in the Disaster & Emergency Management Program, Faculty of Liberal Arts & Professional Studies, who wrote the textbook Natural Disasters and Risk Management in Canada, is available to discuss:
How to better understand the science of a changing climate
Navigating adaptation to climate-activated risks
The issue of floodplains and is it too late to retreat?
Historical perspectives of climate change and how we got here
The importance of engaging communities to understand gaps between perceptions and actual disaster risks
Eric B. Kennedy is an assistant professor in the Faculty of Liberal Arts & Professional Studies and a disaster and emergency management expert who has done extensive field research on wildfires and studies wildfire policy in Canada. He can discuss:
Impact of climate change on wildfires
Fire management and climate stressors
What reforms are needed to better manage fires
Challenges of more frequent, larger and more intense fires
Provincial differences in fire management
Cora Young, a professor in the Department of Chemistry, Faculty of Science, and an expert in environmental and atmospheric chemistry can discuss:
How PFAS can be transported to remote areas and can impact at-risk species
The emissions and sources of halogenated greenhouse gases, such as chlorofluorocarbons (CFCs) and their replacements, and how they impact the environment even in the Arctic
The relationship between the Montreal Protocol on Substances that Deplete the Ozone Layer and climate change
Patricia Perkins, a professor in the Faculty of Environmental and Urban Change, an ecological economist, and a lead author of a chapter in the third report of United Nation's Intergovernmental Panel on Climate Change, can talk about:
How the basic services required to support human well-being globally could be provided using only about half of current energy consumption – a conclusion of the UN report
Shaping consumption patterns and behaviour to generate better climate change outcomes, plus co-benefits
The role of equity and climate justice in tackling climate change and reducing greenhouse gas emissions
How mutually reinforcing actions by consumers, governments, businesses, investors, workers, voters, homeowners, renters, pensioners, children and youth, women, BIPOC people, First Nations, NGOs, farmers, urban planners, and others are accelerating the current energy transition
-30-
York University is a modern, multi-campus, urban university located in Toronto, Ontario. Backed by a diverse group of students, faculty, staff, alumni and partners, we bring a uniquely global perspective to help solve societal challenges, drive positive change and prepare our students for success. York's fully bilingual Glendon Campus is home to Southern Ontario's Centre of Excellence for French Language and Bilingual Postsecondary Education. York's campuses in Costa Rica and India offer students exceptional transnational learning opportunities and innovative programs. Together, we can make things right for our communities, our planet, and our future.
Media Contact:
Sandra McLean, York University Media Relations, 416-272-6317, sandramc@yorku.ca