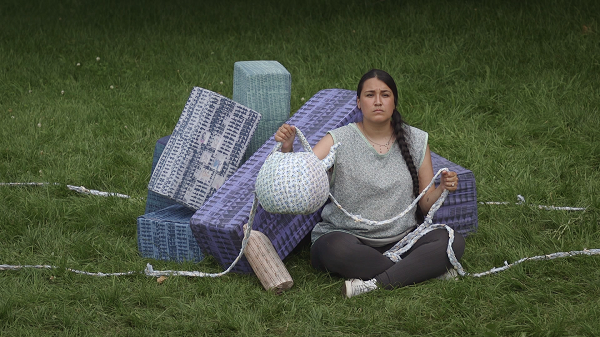 TORONTO, Sept. 23, 2021 – As the National Day for Truth and Reconciliation approaches, the Polishing the Chain – Treaty Relations in Toronto speaker series will launch at York University, exploring the spirit and intent of Toronto treaties, along with settler and Indigenous treaty responsibilities.
Toronto is the traditional territory of the Wendat, Anishnaabeg and Haudenosaunee Confederacies where a web of historical treaties was negotiated and are still relevant today. The speaker series, organized by York University Assistant Professor Martha Stiegman of the Faculty of Environmental and Urban Change with student Tara Chandran, will look at how Indigenous Peoples uphold these treaties and to what extent they are reflected in contemporary Indigenous/state relations.
The series is one small step down a long road toward reconciliation. The upcoming talks will take place via Zoom from 11:30 a.m. to 1:30 p.m. Register here.
Sept. 28 – The Symbolic Language of Wampum Diplomacy, co-presented with the Toronto Biennial of Art.
This first talk will feature York University Assistant Professor Alan Corbiere of the Faculty of Liberal Arts and Professional Studies and the Canada Research Chair in Indigenous History of North America; and Rick Hill, a Tuscarora writer, historian and curator, discussing the Covenant Chain and the visual and metaphoric language of wampum diplomacy. At the 1764 Treaty of Niagara, the British extended their nearly century-old Covenant Chain alliance with the Haudenosaunee to the 24 western nations of the Great Lakes area. Corbiere and Hill will explore the symbolism represented in the belts delivered at Niagara to secure this crucial alliance. Interdisciplinary Kanienkehaka artist Ange Loft, the lead of Jumblies Theatre + Arts' Talking Treaties project, will look at the ways this visual language is deployed in her current Dish Dances film and A Treaty Guide for Torontonians book, both of which will be featured in the 2022 Toronto Biennial of Art.
Oct. 26 – Taking care of the Dish: Treaties, Indigenous Law & Environmental Justice
Indigenous/Crown treaties represent a meeting between Indigenous and colonial legal orders, not times when colonial law was imposed. To understand treaty relations, it's important to first understand the Indigenous laws, knowledge systems and visions of justice these treaties are grounded in. This talk will feature York Associate Professor Deborah McGregor, Canada Research Chair in Indigenous Environmental Justice; Carolynne Crawley of the Indigenous Stewardship Circle; and Adrianne Lickers Xavier, director of the Indigenous studies program at McMaster University. The speakers will reflect on their work in Indigenous environmental justice in relation to Indigenous law and treaties to explore the ways these agreements guide Indigenous land stewardship, and how they are being lived in Toronto and southern Ontario today.
Nov. 23 – Treaty relations, Planning and Indigenous Consultation at the City of Toronto
Treaties, the Crown's duty to consult, and Ontario's Provincial Policy Statement have triggered new practices of Indigenous consultation and urban planning in Toronto. In this panel, speakers will discuss Indigenous planning and decision making in the GTA. Selina Young, director of the Indigenous Affairs Office for the City of Toronto; Associate Professor Leela Viswanathan of the School of Urban and Regional Planning, Queen's University; and Bob Goulai of Niibisin Consulting will discuss the extent to which city planning includes Indigenous nations and communities, and whether or not Indigenous Peoples have meaningful authority or decision-making power in relation to land and waters. Does the City recognize and enable their ability to practise ceremony, plant and harvest food and medicines, or enact stewardship responsibilities?
Polishing the Chain is co-presented by York's Faculty of Environmental and Urban Change, Centre for Indigenous Knowledges and Languages, and Indigenous Environmental Justice Project, along with Jumblies Theatre + Art's Talking Treaties project, and Toronto Biennial of Art.
-30-
York University is a modern, multi-campus, urban university located in Toronto, Ontario. Backed by a diverse group of students, faculty, staff, alumni and partners, we bring a uniquely global perspective to help solve societal challenges, drive positive change and prepare our students for success. York's fully bilingual Glendon Campus is home to Southern Ontario's Centre of Excellence for French Language and Bilingual Postsecondary Education. York's campuses in Costa Rica and India offer students exceptional transnational learning opportunities and innovative programs. Together, we can make things right for our communities, our planet, and our future.
Media Contact:
Sandra McLean, York University Media Relations, 416-272-6317, sandramc@yorku.ca