TORONTO, June 10, 2021 – The COVID-19 pandemic has exposed global inequalities in access to education, providing an opportunity to reimagine learning and pedagogy, says Charles Hopkins, UNESCO Chair in Reorienting Education towards Sustainability at York University. He is a featured speaker at the Times Higher Education (THE) University Impact Forum: Towards A Transformative Vision of Education, on June 14.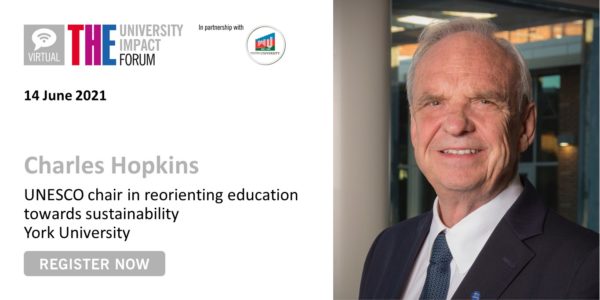 The virtual forum will focus on the role of universities in achieving the UN's Sustainable Development Goal 4 (SDG4) of quality education. The sessions will explore topics including the role of partnerships in delivering SDG4, the future of education as experiential, the emergence of micro-credentials, lifelong learning and universities' commitment to improving access to education as well as sustaining high-quality educational research with impact.
Hopkins's talk Quality Education for a Resilient Recovery will address new perceptions of what constitutes quality in education, emerging purposes of education itself and the potential role of higher education in a resilient post-pandemic recovery.
The forum will also feature a data masterclass analyzing the progress of universities and their contribution towards SDG4 based on the THE Impact Rankings 2021.
WHAT: Times Higher Education University Impact Forum: Towards A Transformative Vision of Education.
WHEN: Monday, June 14, 9:30 a.m. to 10 a.m.
WHO: Charles Hopkins will deliver a keynote titled Quality Education for a Resilient Recovery
WHERE: Register for the virtual forum here.
York University is a modern, multi-campus, urban university located in Toronto, Ontario. Backed by a diverse group of students, faculty, staff, alumni and partners, we bring a uniquely global perspective to help solve societal challenges, drive positive change and prepare our students for success. York's fully bilingual Glendon Campus is home to Southern Ontario's Centre of Excellence for French Language and Bilingual Postsecondary Education. York's campuses in Costa Rica and India offer students exceptional transnational learning opportunities and innovative programs. Together, we can make things right for our communities, our planet, and our future. 
Media Contact:
Gloria Suhasini, York University Media Relations, 647-463-4354, suhasini@yorku.ca