Funding to address workforce needs in Canada's space and residual waste sectors 
TORONTO, June 10, 2021 – York University has been awarded more than $3.2 million for two projects to prepare students for careers in industries that require inter-disciplinary training and are central to Canada's economic future: space robotics for exploration and applied biotechnology for environmental sustainability. The two projects are among only 13 selected from across Canada to receive up to $21.45 million over six years through the Natural Sciences and Engineering Council's Collaborative Research and Training Experience program (CREATE).
Each of the York projects will receive more than $1.6 million through the CREATE program's Industrial Stream. The projects will offer students from the undergraduate to post-doctoral level, the opportunity to learn from industry, government, and researchers across many disciplines, in both academic and non-academic settings.
Smart Autonomous Robotic Technology for Space Exploration (SMART-ART) will be led by Professor George Z. H. Zhu, York Research Chair in Space Technology in the Department of Mechanical Engineering, Lassonde School of Engineering. Canada's contribution to the NASA Lunar Gateway project, Lunar Gateway Robotics, has created a surge in demand for highly qualified personnel with smart space robotics training. The SMART-ART program will offer experiential industry-oriented training to undergraduates, graduate students and post-doctoral fellows, including industrial internships, research lab rotations, international exchanges and conferences. In doing so, it will help to address three challenges in the Canadian space sector: a shortage of professionals with multidisciplinary skill sets related to Artificial Intelligence, Computer Vision, and Autonomous Robotics for space exploration; an aging workforce with an average age of 54; and gender inequality in the field. Zhu will lead a team with members and partners from Canadian and international universities, the private sector, the Canadian Space Agency and National Research Council. Many colleagues from York University will take part, including four co-applicants from the Lassonde School of Engineering and Osgoode Hall Law School and 10 collaborators from the Departments of Mechanical Engineering, Electrical Engineering and Earth and Space Science and Engineering. The CREATE project will use equipment including robotics, 3D Lidar system and a space environment chamber funded through a Canada Foundation for Infrastructure grant announced in March.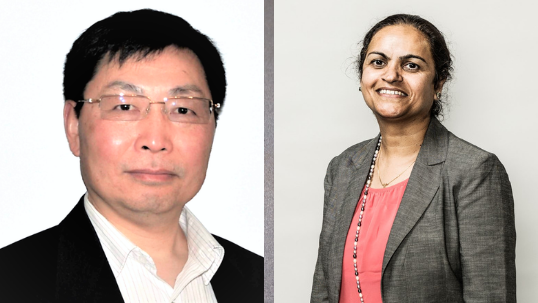 Training in Applied Biotechnology for Environmental Sustainability (TABES) will be led by Professor Satinder K. Brar, James and Joanne Love Chair in Environmental Engineering at the Lassonde School of Engineering. Most of the 2.7 kg of waste each Canadian generates daily is organic and, along with waste from the forest industry, can be transformed into high-value bioproducts such as enzymes, biopolymers and biofuels for application in agricultural, environmental, bioremediation, nanotechnology, bioenergy and biochemicals sectors. This waste management shift to products that are much more valuable than traditional products such as compost and biogas could reduce carbon footprint and achieve a circular bioeconomy for future generations. Technologies derived from residual waste biomass are expected to increase exponentially in the coming years, creating growing demand for highly qualified professionals. Students trained through the TABES program will be provided with a mix of theoretical and practical knowledge with exposure to real-world situations and will incorporate unique skills and competence related to interdisciplinary experience (science-engineering interface); psychrophilic microorganism isolation and related processes (very important in the changing climate context); big data analytics and machine learning interface; First Nation engagement and exchange; retrofit advantages and challenges (learned through pilot plant facilities); and living laboratory off-campus experience (enriched through North-South interconnections). Four York co-applicants from the Lassonde School of Engineering and two from Faculty of Science will take part in the project, with partners from other universities and research institutes and the private sector.
QUOTES:
"We are proud that York University has been awarded an unprecedented two NSERC CREATE grants this year, and grateful for the continued support of the Natural Sciences and Engineering Council. The CREATE grants will enable us to strengthen our contribution to Canada's economic and environmental sustainability by preparing students for in-demand careers in space robotics and applied biotechnology. We are pleased to have this opportunity to bring industry, government and researchers together to train future leaders in these growing sectors," said Rhonda Lenton, President & Vice-Chancellor.
"York University is delighted to see Lassonde Professors Satinder Kaur Brar and Zheng Hong (George) Zhu each awarded an NSERC CREATE grant, the total value of which is over $3 million," said Vice-President Research & Innovation Amir Asif. "NSERC's investment will address significant scientific challenges associated with Canada's research priorities; facilitate the transition of new researchers from trainees to productive employees in the Canadian workforce; and support the creation of new knowledge and scientific scholarship in our country and beyond. We greatly appreciate NSERC's continued support and recognition of the work of our researchers."
York University is a modern, multi-campus, urban university located in Toronto, Ontario. Backed by a diverse group of students, faculty, staff, alumni and partners, we bring a uniquely global perspective to help solve societal challenges, drive positive change and prepare our students for success. York's fully bilingual Glendon Campus is home to Southern Ontario's Centre of Excellence for French Language and Bilingual Postsecondary Education. York's campuses in Costa Rica and India offer students exceptional transnational learning opportunities and innovative programs. Together, we can make things right for our communities, our planet, and our future. 
Media contact: Kayla Lewis, York University Media Relations, cell 416-455-4710, lewiskay@yorku.ca