TORONTO, Jan. 21, 2021 — York University's innovation hub YSpace has started the new year on a high note, showcasing entrepreneurial ventures that offer a range of products from a zero-sugar oat milk beverage to vegan Jamaican patties.
A virtual event on January 19 showcased the 2020 cohort of ventures to guests in the audience representing grocery retailers like Whole Foods, Longo's, Metro and Sobey's, as well as distributors and investors.
The York Region Food and Beverage Accelerator Program went fully virtual last summer, to help its participants to adapt to a business climate altered by the C0VID-19 pandemic and to emerge as successful entrepreneurs. Collectively, these ventures generated over $470,000 in sales, launched into 90 additional retail stores, and created six new job opportunities, during the five-month program.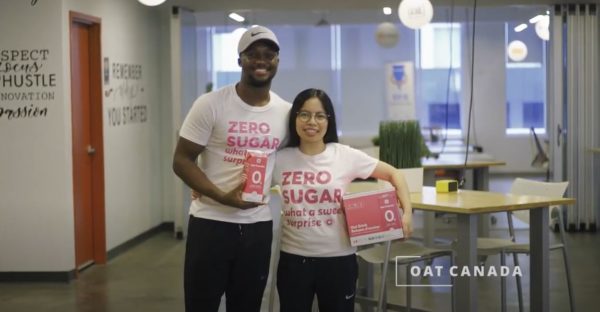 Led by York's Markham-based YSpace, it is run in partnership with the Regional Municipality of York Region and the Canadian Agricultural Partnership, a federal-provincial-territorial initiative. Through the program, founders gained access to customized educational workshops, dedicated mentors and a support network that they needed to increase sales and acquire new distribution channels in the consumer packaged goods industry.
"Ontario's agri-food sector contributes over $47 billion to our provincial GDP and will play a critical role in our economic recovery from COVID-19," said Ernie Hardeman, Minister of Agriculture, Food and Rural Affairs, speaking at the event. "Watching these innovative food entrepreneurs present their new products reassures me that our local food industry is thriving and these businesses are going to be key parts of our agri-food sector's growth well into the future."
"YSpace is creating a vibrant community that encourages creativity and bridges the gap between large enterprises and startups within the York Region ecosystem. It helps build great companies by providing customized mentorship and educational support, access to capital and a network of influencers and entrepreneurs," said Amir Asif, vice-president research & innovation at York University.
The success of Oat Canada is an example of how the program has helped entrepreneurs to learn the nuances of running a food and beverage business. "The business was born out of necessity. My wife has a nut allergy. I am lactose intolerant and diabetes run in both of our families. So we created the first zero-sugar and keto friendly oat milk you can find in market," says cofounder Jamari Ambursley. "YSpace allowed us to access a community of experts. We took a lot away from the workshops including pricing strategy, distribution channels, and exporting. The program has helped us gain new distributors and we are excited for what 2021 brings."
Today, the company he founded with his wife Eloise has expanded from the wholesaler Costco, onto Well.ca, continues to add distributors to grow its reach. The duo also appeared on CBC's Dragon's Den this season and landed a deal with venture capitalist, Manjit Minhas.
Here are the eight ventures that were part of the 2020 cohort that commenced in August 2020:
Backcountry Wok – Dehydrated vegan meals in 100 per cent compostable packaging.
Choose Life – Vegan Jamaican patties with clean ingredients.
Culcherd – Dairy-alternative, plant-based cheese and butter.
GotBallz – Grain-free, sugar-free and low-carb buns.
Leo & Co – A paleo, gluten-free bakery specializing in allergen friendly baked goods.
Nufs – Asian-inspired energy bites with high fibre and natural sweetness.
Oat Canada – Vegan oat drink with zero grams of sugar and no dairy.
Remix – Dark chocolate bark snacks using plant-based protein and upcycled fruit.
The York Region Food & Beverage Accelerator is now accepting applications for their new cohort that will start in May 2021. Click here for details.
York University is a modern, multi-campus, urban university located in Toronto, Ontario. Backed by a diverse group of students, faculty, staff, alumni and partners, we bring a uniquely global perspective to help solve societal challenges, drive positive change and prepare our students for success. York's fully bilingual Glendon Campus is home to Southern Ontario's Centre of Excellence for French Language and Bilingual Postsecondary Education. York's campuses in Costa Rica and India offer students exceptional transnational learning opportunities and innovative programs. Together, we can make things right for our communities, our planet, and our future. 
Media Contact:
Gloria Suhasini, York University Media Relations, 647.463.4354, suhasini@yorku.ca