TORONTO, Dec. 8, 2020 – Just in time for the holiday season, gas planets Jupiter and Saturn will move within 0.1 degrees of each other appearing like a giant star in the night sky.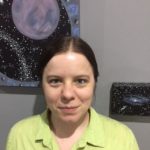 "This will be the closest they've been to each other since 1623," says Assistant Professor Elaina Hyde of York University's Faculty of Science, who is available to discuss the rare astronomical event.
"This means the planets Jupiter and Saturn will be so close together, you would be able to easily cover them both with a pinkie finger held outstretched towards the sky, so close it will appear as a single bright star."
In the weeks leading up to what's called the "Great Conjunction" on Dec. 21, Jupiter and Saturn will be visible low in the western sky just after sunset. The two planets will get closer to each other until they will reach their closest pass.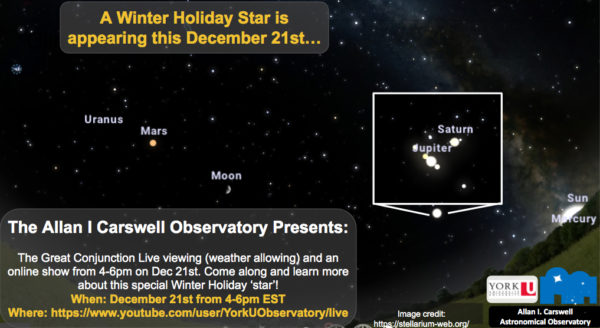 For a better view, check out the Allan I. Carswell Observatory's YouTube channel for a live view through the one-metre telescope – clear skies permitting.
When: Monday, Dec 21
Time: 4 to 6 pm
Where: https://www.youtube.com/user/YorkUObservatory/live
A conjunction of Jupiter and Saturn only happens about once every 20 years.
For more information, visit the Allan I. Carswell Observatory website.
-30-
York University is a modern, multi-campus, urban university located in Toronto, Ontario. Backed by a diverse group of students, faculty, staff, alumni and partners, we bring a uniquely global perspective to help solve societal challenges, drive positive change and prepare our students for success. York's fully bilingual Glendon Campus is home to Southern Ontario's Centre of Excellence for French Language and Bilingual Postsecondary Education. York's campuses in Costa Rica and India offer students exceptional transnational learning opportunities and innovative programs. Together, we can make things right for our communities, our planet, and our future.
Media Contact:
Sandra McLean, York University Media Relations, 416-272-6317, sandramc@yorku.ca