TORONTO, Oct. 16, 2020 – York University has received a $10 million gift from The R. P. Bratty Family Foundation toward the creation of the University's Markham Centre Campus (MCC).
Set to open in Fall 2023, the Markham Centre Campus will be the first public university campus in York Region. The Bratty family's substantial donation reflects a commitment to education that has been passed down through generations of their family, since coming to Canada in the 1920s.
"My parents' biggest regret was that they never got to go to school," says Rudy Bratty, Chairman and CEO of The Remington Group. "They regarded education as a privilege, so when I finished high school and decided to become a builder, like my father, he sent me to earn a bachelor's degree. When I finished that, he made sure I continued on to get a professional degree."
Rudy Bratty graduated from York's Osgoode Hall Law School and was called to the Bar in 1957, beginning a long career as a lawyer and developer.
Over the years, the Bratty name has become synonymous with real estate development in Southern Ontario and throughout Canada. The Bratty Family are also notable philanthropists and have supported York for decades.
"York University is incredibly grateful to the Bratty family and the R.P. Bratty Family Foundation for their generous gift toward the future Markham Centre Campus, and their visionary leadership as supporters of higher education," said President & Vice-Chancellor Rhonda L. Lenton. "This contribution will not only support the MCC's ability to provide a high-quality student learning experience in newly emerging and high demand programs but facilitate the research, innovation and creative activities contributing to York's larger mission to build inclusive and resilient communities in one of the fastest-growing regions in Canada."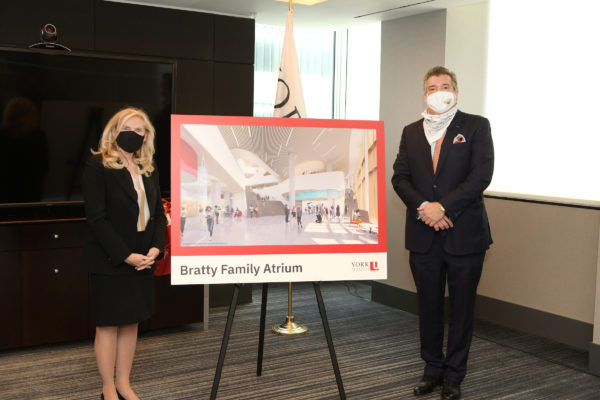 Set to open in Fall 2023, the MCC will be the first public university campus in York Region. MCC will offer employer-aligned degree programs, certificates and other credentials – with a rich array of experiential education activities – in high demand areas such as business and entrepreneurship, data analytics, new media and communications.
To honour the contributions of the Bratty Family, the University is naming the new atrium in the Markham Centre Campus "The Bratty Family Atrium."
Rudy Bratty's son Chris is President, Land Development and Investments, of The Remington Group and all members of the family are active in the business.
"For my dad, education was so important because it helps us to understand different perspectives," says Chris Bratty. "It's the best tool we have for conflict resolution. York Region is underserved in terms of universities. That's why we're so proud to partner with York University to make this campus possible in Markham. This will be a significant building block for downtown core of Markham specifically and we hope it will attract businesses and cultural centres to the region."
The family also hopes that by helping to support education in Markham, they will foster the innovation and creativity that comes from young people who are just beginning their journey to higher education.
"This innovation and creativity is best enabled by the presence of the MCC and the countless young people attending the University who will interact in the community and help to shape it in a unique way," Chris Bratty says. "And that's the true power of education."
Watch remarks made during the gift announcement here.
York University champions new ways of thinking that drive teaching and research excellence. Our students receive the education they need to create big ideas that make an impact on the world. Meaningful and sometimes unexpected careers result from cross-disciplinary programming, innovative course design and diverse experiential learning opportunities. York students and graduates push limits, achieve goals and find solutions to the world's most pressing social challenges, empowered by a strong community that opens minds. York U is an internationally recognized research university – our 11 faculties and 25 research centres have partnerships with 200+ leading universities worldwide. Located in Toronto, York is the third largest university in Canada, with a strong community of 53,000 students, 7,000 faculty and administrative staff, and more than 300,000 alumni.
Media contact:
Janice Walls, York University Media Relations, cell 416-455-4710, wallsj@yorku.ca