TORONTO, June 15, 2020 – The performing arts sector may never return to normal after the COVID-19 pandemic, and its future may rely on human performance supported by immersive technology, says theatre Professor Ian P. Garrett in the School of the Arts, Media, Performance & Design, York University.
"My work has never seemed more relevant, as we're continuing to work using immersive technology that allows us to bridge distance and time," says Garrett, who teaches Ecological Design for Performance. "Virtual reality (VR) and augmented reality (AR) bring us closer together for shared experiences, despite the physical distancing due to the pandemic."
VR immerses users into interactive digital environments (such as 3D graphics and 360-degree videos) when using special headsets or glasses; AR combines simulated content with real world environments, as experienced in the popular videogame Pokémon Go that overlays a user's avatar on a real-world map.
Garrett's research is on mixed reality (MR), a newer form of immersive technology that blends aspects of both VR and AR. He has been awarded an Early Researcher Award from the Ontario Ministry of Research and Innovation for making MR performance possible in environmentally threatened landscapes.
With theatres and venues shuttered, Garrett says his work is no longer novel but has become essential to understand and redefine the sector. "First, we have to figure out what the future of arts events will look like. For example, travel restrictions and new regulations will continue to affect touring productions and festivals that depend on audience travel, long after the physical distancing is relaxed."
He adds, "I imagine productions will be hybrids of live theatre with actors appearing via motion capture from the other side of the globe. And audience members can only get to the performance by watching it from a VR headset – even if it's using a google cardboard and their phone – from home."
While acknowledging that watching art performances on screen doesn't replace the live experience, Garrett points out that there have been some great experiments with performance moving to communication platforms such as Zoom.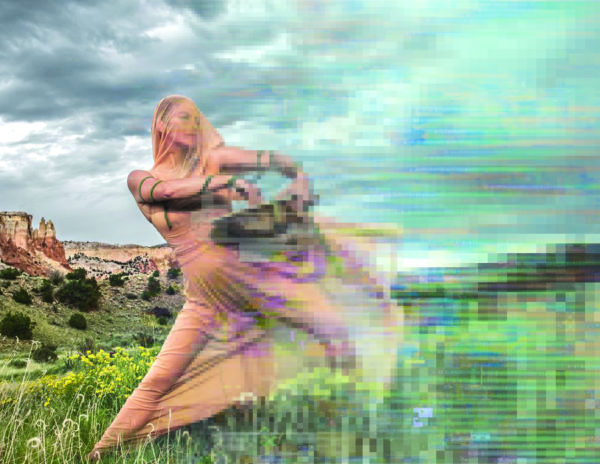 IF: Indigenous Futurities: Dancing Earth in CyberSpace, is an example of optimizing immersive media in performing arts, as the performers apply the MR methods that are currently used in Canadian and American theatre.
The experimental work is a part of the two-year Mixed Reality Performance Atelier project, presented by the Canada Council for the Arts funded Toasterlab, which grew out of Garrett's research.
Garrett and his collaborators from Dancing Earth Indigenous Creations, a dance company led by artistic director Rulan Tangen, have been rehearsing under lockdown – via streaming tests.
Open to the public, the final presentation will be livestreamed on June 18 at 9:30pm, ET. The performance will include artists from Brazil (currently located in Phoenix, AZ), Canada, New Zealand and the U.S, and incudes footage from NASA.
Garrett is available to discuss the upcoming performance, including the issues in real-time collaborations with global performers, time zones, technological capabilities, and audience interactions. He can also comment on the role of immersive technology in the performing arts currently and in the future, in post-pandemic times.
York University champions new ways of thinking that drive teaching and research excellence. Our students receive the education they need to create big ideas that make an impact on the world. Meaningful and sometimes unexpected careers result from cross-disciplinary programming, innovative course design and diverse experiential learning opportunities. York students and graduates push limits, achieve goals and find solutions to the world's most pressing social challenges, empowered by a strong community that opens minds. York U is an internationally recognized research university – our 11 faculties and 25 research centres have partnerships with 200+ leading universities worldwide. Located in Toronto, York is the third largest university in Canada, with a strong community of 53,000 students, 7,000 faculty and administrative staff, and more than 300,000 alumni.
York U's fully bilingual Glendon Campus is home to Southern Ontario's Centre of Excellence for French Language and Bilingual Postsecondary Education.
Media Contact: Gloria Suhasini, York University Media Relations, 647-463-4354, suhasini@yorku.ca