Toronto, June 5, 2020 – A York University program that brings a diversity of students from different disciplines together to work on real-life problems has received an international award from Airbus and the Global Engineering Deans Council (GEDC).
Through the Cross-Campus Capstone Classroom (C4) project, faculty members and students from the Lassonde School of Engineering, the Dance Department in the School of the Arts, Media, Performance & Design, and other faculties, address challenges that benefit from a variety of perspectives and lenses.
The C4 project was awarded the Airbus GEDC Diversity Award this week in Toulouse, chosen from 48 entries representing 18 countries. Launched by Airbus in 2012, the award is given to increase diversity among engineering professionals globally, so the industry reflects the diversity of its communities.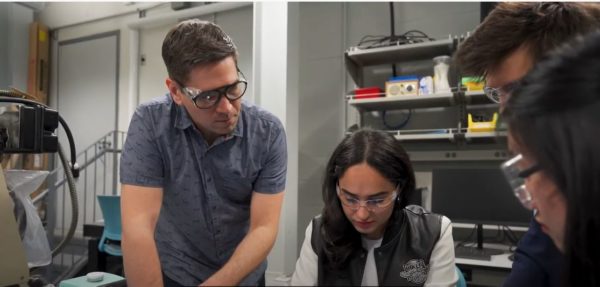 In the C4 project, 74 York students from eight faculties, including 23 engineering students, designed solutions for 11 social impact challenges identified by companies, non-profits, start-ups and government-linked organizations.
Students in third and fourth years from the various faculties came together in multidisciplinary teams to work on projects ranging from technology and design to environment and sustainability. Experiential education is a key component in this program, in which student teams worked with external partners to solve real-world challenges, thereby creating social impact.
In one project, for example, eight students from the Lassonde School of Engineering, Glendon College and the Faculty of Liberal Arts & Professional Studies, worked together on "Solar Floatie", a solar home system that aims to provide affordable heating and electrical power for homeowners, farmers and workers in El Norte Chico, Chile. The system replaces conventionally high-cost industrial components with low-cost, accessible materials.
York University champions new ways of thinking that drive teaching and research excellence. Our students receive the education they need to create big ideas that make an impact on the world. Meaningful and sometimes unexpected careers result from cross-disciplinary programming, innovative course design and diverse experiential learning opportunities. York students and graduates push limits, achieve goals and find solutions to the world's most pressing social challenges, empowered by a strong community that opens minds. York U is an internationally recognized research university – our 11 faculties and 25 research centres have partnerships with 200+ leading universities worldwide. Located in Toronto, York is the third largest university in Canada, with a strong community of 53,000 students, 7,000 faculty and administrative staff, and more than 300,000 alumni.
York U's fully bilingual Glendon Campus is home to Southern Ontario's Centre of Excellence for French Language and Bilingual Postsecondary Education.
Media Contact: Gloria Suhasini, York University Media Relations, 647-463-4354, suhasini@yorku.ca