What you need to know working from home during this pandemic
TORONTO, Monday, March 30, 2020 – Millions of people around the world are staying home to follow rules around social distancing as a result of the COVID-19 pandemic. As many adjust moving from their office space to their work-from-home space, how can they prevent muscles and joints from stiffening and deteriorating?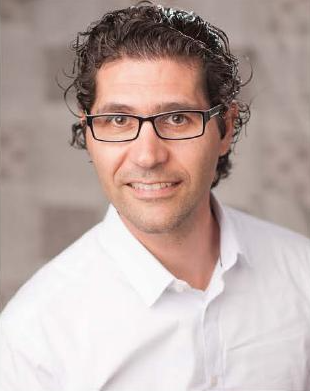 Assistant Professor Michael Boni, in the School of Kinesiology and Health Science program at York University, has this advice for anyone working from home: "be sure to get up and move." As a Certified Athletic Therapist, Kinesiologist and Physiotherapist as well as a faculty member in the Faculty of Health, his clinical treatment expertise is in the field of manual and exercise therapy, focusing on neck, shoulder and back pain. He educates and mentors Athletic Therapists, Physiotherapists, and Kinesiology students.
Boni offers key insight on what our muscles, joints and back may need during the next few weeks and months, during different phases of the new norm.
Many people are adjusting to the new reality of working from home in different workspaces than they are used to.  What should people do to look after their muscles and joints during this time?
With the increased sedentary activity, people are likely sitting longer at this point in time just because they're avoiding their commute component to the going in and out of work, be it walking from the car to their office and less movement in general, that may create more stiffness in our muscles and in our joints. It's important to recognize that and to do something to counteract that. One simple strategy to counteract this, can simply be to increase your water intake, which forces your body to have to get up and go to the bathroom. This means that you're moving and getting out of a seated position. Drinking more water also helps to hydrate your muscles and joints further helping to prevent some of that stiffness.
The increasing stiffness and the stagnation of blood flow may lead you to feeling a little bit colder. If you have been sitting for a long period of time – people may recognize this by feeling a little bit colder – your hands and feet specifically will feel cold, that's due to a lack of proper circulation to your extremities.
For those who regularly go to the gym or physiotherapy, but cannot due to social distancing now, what can we incorporate into our schedule to manage the gap?
I think it's imperative that people create a schedule for themselves to include some aerobic or cardiovascular fitness component into their daily routine. Obviously, for the person that's not used to going to the gym, it can be as simple as going for a walk.
Here are some tips:
Create a schedule for exercise, either morning or lunchtime.
Include a cardiovascular fitness component into your daily routine.
If you don't normally go to the gym, include a walk in your day, or if you do normally go to the gym, stair climbing, home seated rowing, stationary bike are good options.
Try to get outside to do some of your conditioning outside such as riding a bike, running, walking, which can be done still while practicing the social distancing.
For those people who are used to doing strength training, it's still important to maintain some strength and if you don't have the exercise equipment to help maintain some of that you can do a lot of body-based type of exercises. These can be simple old-fashioned calisthenic exercises like a push-up, a pull-up sit-up, body squats or lunges, if you have the ability to do that.
Getting some form of strengthening at least three times a week to maintain the gains that you may have achieved through a gym routine is an important strategy.
Watch Professor Boni explain quick things you can do at your desk below:
How can we prevent back strain in our new work-from-home routines?
Back strain or what's known as lumbago, (low back pain) or neck and shoulder pain, is commonly seen in an office worker regardless, and perhaps more so with a person now being in a different workspace environment that your body is not accustomed to, you may find that your muscles may become a little bit more sore. To prevent this, it becomes even more important to get up physically and move out of that position.
Tips for your workspace:
Be mindful of the setup of your workspace so that it has a 90-90-90 type of position where your hips are flexed or bent to 90 degrees, your knees are bent to 90 degrees and your elbows are bent to 90 degrees.
The top of your computer screen should basically be at eye level.
If you don't have that set up then you need to modify your workstation at home.
Keep a simple roll in the small of your back to help prevent the excessive prolonged flexed position to avoid a lot of stress and strain on your intervertebral discs.
And simply try to get up and move out of stagnant positions.
Given this pandemic is fluid and will likely have different phases, what should we know about the impact on our muscles during the different stages and how to adjust our exercise routines? 
"As we go through the phases of the pandemic our muscles and joints will actually start to adapt to the new stresses that our bodies are being placed on. That means that while you're sitting in a new environment for the first week or two, you may start to feel those aches and pains but within the third and fourth week, your muscles may start to adjust. Your body still needs movement to occur and you must recognize the need for some kind of an exercise routine."
It's no different than the bus driver who sits all day long. Although over time the driver's body starts to adapt and adjust, the body is being strained and the driver may just not be feeling it. Over the duration of the next few weeks, it will be important to keep a schedule for exercise. Maybe after lunch, you go for a 30-minute walk or you schedule your workout routine during the morning. It's still important to maintain that schedule so that your body comes to recognize that it's going to have some component of exercise. And during your workday, getting up out of the seated position twice an hour may help counteract some of that body stress and strain.
For people looking to use online videos or apps to exercise, what advice do you have on how they should pick the best one? 
It can get very confusing for the public on what exercise they can do. It comes down to individual need. This is where a Certified Athletic Therapist, Physiotherapist or Fitness professional can really evaluate what your individual strengths and deficits that need to be worked on are, and then prescribe a specific exercise routine. If it's cardiovascular that you need to increase in your routine, then exercises like yoga and Pilates won't provide that so much, therefore you should be looking at more of an upbeat tempo type of exercise or video. But each person's need is individualized and there is no one size fits all with respect to the exercise routines that are out there. Having said that, generally most people should be incorporating three key elements in their exercise routine: 1) Something that increases their heart rate, so a cardiovascular-based activity, 2) something that promotes maintenance or gain of muscle strength which may also promote bone health, and 3) exercise that improves flexibility or mobility. Varying amounts of these elements should be incorporated into an exercise routine. Find out where your need or deficits lie to create a balanced approach.
York University champions new ways of thinking that drive teaching and research excellence. Our students receive the education they need to create big ideas that make an impact on the world. Meaningful and sometimes unexpected careers result from cross-disciplinary programming, innovative course design and diverse experiential learning opportunities. York students and graduates push limits, achieve goals and find solutions to the world's most pressing social challenges, empowered by a strong community that opens minds. York U is an internationally recognized research university – our 11 faculties and 25 research centres have partnerships with 200+ leading universities worldwide. Located in Toronto, York is the third largest university in Canada, with a strong community of 53,000 students, 7,000 faculty and administrative staff, and more than 300,000 alumni. York U's fully bilingual Glendon Campus is home to Southern Ontario's Centre of Excellence for French Language and Bilingual Postsecondary Education.
For interviews with Professor Boni contact: Anjum Nayyar, York University Media Relations, cell 437-242-1547, anayyar@yorku.ca