York University to host one of Canada's largest youth environmental conferences
TORONTO, October 15, 2019 – A love affair with big, gas-guzzling trucks and SUVs has meant Canadians drive the worst climate polluting vehicles in the world. In Ontario, transportation is the number one source of climate pollution, says Dianne Saxe.
One of Canada's most respected environmental lawyers Dianne Saxe will be a keynote speaker, along with Larissa Crawford and Sam Demma, at Change Your World, a full-day conference on Thursday, October 17 meant to inspire youth to become environmentally active citizens.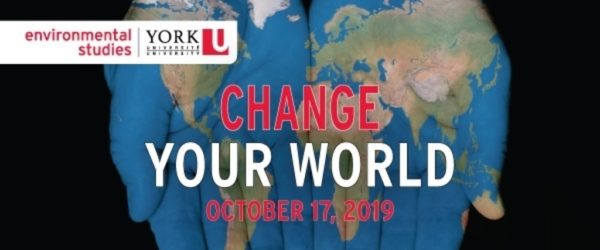 Hosted by the Faculty of Environmental Studies, the conference will be attended by about 875 youths from 45 high schools across the province, including Toronto, York Region, Peel Region and Halton Region.
Saxe – who served as a watchdog over Ontario's environmental, energy and climate performance as Environmental Commissioner of Ontario until April – is now a McMurtry Fellow at York's Faculty of Environmental Studies and Osgoode Hall Law School.
"I'm really worried," said Saxe. "Every fossil fuel in Ontario has gone up, except coal. We know what to do but we're not doing it."
Saxe is encouraging voters to choose a federal leader in next week's election who understands the seriousness of the climate crisis and is committed to carbon pricing: "I have children and grandchildren. Everyone can do something, and voting is the most important. If we get the climate wrong, nothing else is going to matter."
The Change Your World conference allows students to do interactive, hands-on workshops that expand their passion for the environment. Each student will choose one out of 20 workshops to attend, plus one mandatory one.
In one workshop on fighting plastic pollution and climate change, the students will see pieces of plastics found inside a real bird nest to help understand how plastics negatively impact wildlife and to empower them to take action to protect nature.
The youths will also have the chance to learn the true cost of fashion, from the industry's greenhouse gas emissions to use of highly toxic chemicals, as well as strategies to stand up for climate change inspired by former Vice President Al Gore's Climate Reality Project and Greta Thunberg's Fridays for Future campaign.
York's Indigenous Environmental Justice Project, led by Professor Deborah McGregor, Canada Research Chair in Indigenous Environmental Justice, will explore stories on the land and teach the youths how Indigenous storytelling can illustrate justice and environmental issues. All students will participate in the 3% Project workshop, which helps youth identify, analyze and develop solutions to the largest sustainability challenges in their own communities.
WHAT: Change Your World conference for high school students to learn how to create a more environmentally sustainable future
WHO: Dianne Saxe, environmental lawyer and York University's McMurtry Fellow
WHEN: Thursday, October 17, from 9:30 a.m. to 2:30 p.m., with Dianne Saxe's keynote address at 9:30 a.m.
WHERE: Vari Hall at York's Keele Campus (see #30 on this Map).
RSVP: Please RSVP to the media contact below.
York University champions new ways of thinking that drive teaching and research excellence. Our students receive the education they need to create big ideas that make an impact on the world. Meaningful and sometimes unexpected careers result from cross-disciplinary programming, innovative course design and diverse experiential learning opportunities. York students and graduates push limits, achieve goals and find solutions to the world's most pressing social challenges, empowered by a strong community that opens minds. York U is an internationally recognized research university – our 11 faculties and 25 research centres have partnerships with 200+ leading universities worldwide. Located in Toronto, York is the third largest university in Canada, with a strong community of 53,000 students, 7,000 faculty and administrative staff, and more than 300,000 alumni.
York U's fully bilingual Glendon Campus is home to Southern Ontario's Centre of Excellence for French Language and Bilingual Postsecondary Education.
Media Contact: Vanessa Thompson, York University Media Relations, 647-654-9452, vthomps@yorku.ca