TORONTO, Wednesday, Oct. 10, 2018 – The Canadian Jewish Literary Awards is honouring eight outstanding books for 2018 at a ceremony hosted by York University, Oct. 14.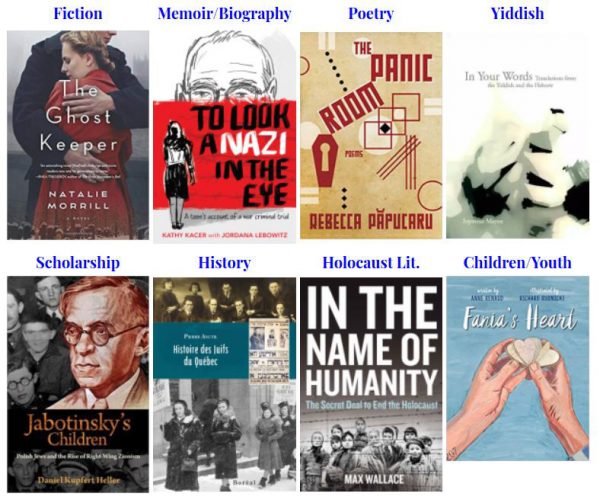 At the event, book lovers will be treated to readings by authors of the winning works in categories including fiction, memoir/biography, poetry, history, scholarship, holocaust literature, and books for children and youth.
"The Award winners this year are Jewish and non-Jewish. They come from communities right across the country, and both young writers and more established writers are represented," said jury chair, Edward Trapunski. "The depth and breadth show the vibrancy of the culture and the appeal of Jewish themes for fiction and non-fiction writers."
The Awards are hosted and sponsored by the Israel and Golda Koschitzky Centre for Jewish Studies at York University.
WHAT: 2018 Canadian Jewish Literary Awards ceremony
WHERE: Tribute Communities Recital Hall, Accolade East Building, York University Keele Campus (building number 92 on the map)
WHO:
Fiction: The Ghost Keeper by Natalie Morrill. (HarperCollins Patrick Crean Editions)
Memoir/Biography: To Look a Nazi in the Eye: A Teen's Account of a War Criminal Trial by Kathy Kacer with Jordana Lebowitz, (Second Story Press)
Poetry: The Panic Room by Rebecca Păpucaru (Nightwood Editions)
Yiddish: In Your Words: Translations from the Yiddish and the Hebrew by Seymour Mayne (Ronald P. Frye & Co.)
Scholarship: Jabotinsky's Children: Polish Jews and the Rise of Right-Wing Zionism by Daniel Kupfert Heller (Princeton University Press)
History: Histoire des Juifs du Québec by Pierre Anctil (Les éditions du Boréal)
Holocaust Literature: In the Name of Humanity: The Secret Deal to End the Holocaust by Max Wallace (Allen Lane/PenguinRandom House Canada)
Children and Youth: Fania's Heart by Anne Renaud (author) and Richard Rudnicki (illustrator) (Second Story Press)
York University champions new ways of thinking that drive teaching and research excellence. Our students receive the education they need to create big ideas that make an impact on the world. Meaningful and sometimes unexpected careers result from cross-disciplinary programming, innovative course design and diverse experiential learning opportunities. York students and graduates push limits, achieve goals and find solutions to the world's most pressing social challenges, empowered by a strong community that opens minds. York U is an internationally recognized research university – our 11 faculties and 25 research centres have partnerships with 200+ leading universities worldwide. Located in Toronto, York is the third largest university in Canada, with a strong community of 53,000 students, 7,000 faculty and administrative staff, and more than 300,000 alumni. York U's fully bilingual Glendon Campus is home to Southern Ontario's Centre of Excellence for French Language and Bilingual Postsecondary Education.
Media contact:
Gloria Suhasini, York University Media Relations, 416-736-2100 ext. 22094, suhasini@yorku.ca