---
TORONTO, June 19, 2018 ─ York University today recognized the professional and philanthropic contributions of communications giant Tony Gagliano with an honorary doctor of laws degree, during Spring Convocation for the Faculty of Liberal Arts & Professional Studies.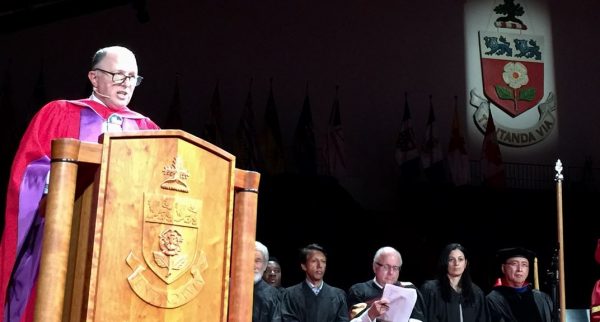 Toronto born and bred, Gagliano helped to develop his family's business, St. Joseph Communications, into one of Canada's largest private communications companies. Appointed president at 29 years of age, he steered the company into the fields of media, technology, software development and B2B communications.
Passionate about the arts, he has served as past president of the board of the Art Gallery of Ontario, as board member of the Royal Conservatory of Music, and is the co-founder and Chair of Luminato, Toronto's Festival of Arts & Creativity. He is also associated with the Young Presidents' Organization, St. Michael's Hospital, Ryerson University, and is an honorary board member with Scouts Canada and honorary Chair of Massey Hall & Roy Thomson Hall.
He has generously supported Partners in Growth with Scouts Canada, and initiated the St. Joseph Foundation for poverty relief. In recognition of his philanthropy, Gagliano was named 2008 Canadian of the Year by the Canadian Club. He received the Words and Deeds Leadership Award from the Jewish-Toronto community. In 2010, he received the Outstanding Volunteer Award by the Association of Fundraising Professionals Greater Toronto Chapter.
Gagliano's accomplishments make him an inspiring leader in both the corporate boardroom and throughout Canada's communities.
York University champions new ways of thinking that drive teaching and research excellence. Our students receive the education they need to create big ideas that make an impact on the world. Meaningful and sometimes unexpected careers result from cross-disciplinary programming, innovative course design and diverse experiential learning opportunities. York students and graduates push limits, achieve goals and find solutions to the world's most pressing social challenges, empowered by a strong community that opens minds. York U is an internationally recognized research university – our 11 faculties and 25 research centres have partnerships with 200+ leading universities worldwide. Located in Toronto, York is the third largest university in Canada, with a strong community of 53,000 students, 7,000 faculty and administrative staff, and more than 300,000 alumni. York U's fully bilingual Glendon Campus is home to Southern Ontario's Centre of Excellence for French Language and Bilingual Postsecondary Education.
Media Contact: Janice Walls, Media Relations, York University, 416 455-4710, wallsj@yorku.ca