TORONTO, June 18, 2018 ─ Dr. Narendra Chetram Singh, a compassionate physician who is devoted to global pediatric and neonatal health care, received an honorary doctor of laws from York University today during Spring Convocation for the Faculty of Health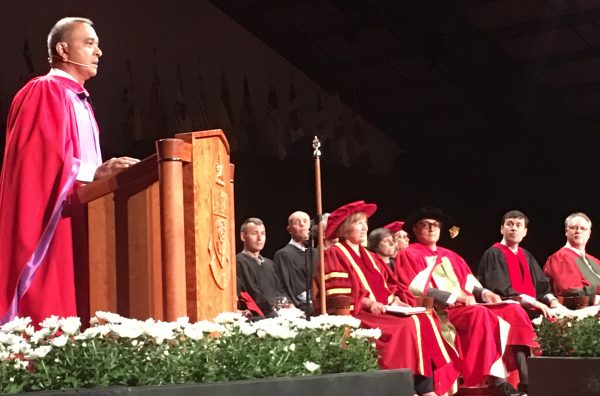 A physician who elevates the standard of care everywhere he works, Dr. Singh recently retired as Chief of Staff at Humber River Hospital.
Dr. Singh founded Guyana Help the Kids (GHTK) in 2009 to combat the high neonatal and infant mortality rates in his birth country, developing a sustainable program in partnership with the Guyanese government and the local Georgetown Public Hospital Corporation (GPHC). As part of this program, he created a residency program, a neonatal nursing program, introduced modern technologies, and implemented contemporary practices. These initiatives had an immediate impact with a 40 per cent decrease in infant mortality in the first year at the GPHC, a substantial achievement considering previous neonatal deaths of more than 250 per year. He is actively exploring expanding this model into Latin American and the Caribbean Islands.
Dr. Singh is also a Consultant Pediatric Intensivist at Doctors Hospital of Renaissance in Texas. He has received numerous awards including the Meritorious Service Medal of Canada, the Royal College of Physicians and Surgeons of Canada Prix d'excellence (Specialist of the Year) and the Professionalism Award from the Government of Guyana.
These tremendous accomplishments combined with his compassion for global health care, affirm that Dr. Singh is a leader in the international medical community.
York University champions new ways of thinking that drive teaching and research excellence. Our students receive the education they need to create big ideas that make an impact on the world. Meaningful and sometimes unexpected careers result from cross-disciplinary programming, innovative course design and diverse experiential learning opportunities. York students and graduates push limits, achieve goals and find solutions to the world's most pressing social challenges, empowered by a strong community that opens minds. York U is an internationally recognized research university – our 11 faculties and 25 research centres have partnerships with 200+ leading universities worldwide. Located in Toronto, York is the third largest university in Canada, with a strong community of 53,000 students, 7,000 faculty and administrative staff, and more than 300,000 alumni. York U's fully bilingual Glendon Campus is home to Southern Ontario's Centre of Excellence for French Language and Bilingual Postsecondary Education.
Media Contact: Janice Walls, Media Relations, York University, 416-455-4710, wallsj@yorku.ca