TORONTO, June 18, 2018 ─ Filmmaker Deepa Mehta received an honorary doctor of letters today from York University during Spring Convocation in recognition of her accomplishments as a director and screenwriter dedicated to battling cultural intolerance.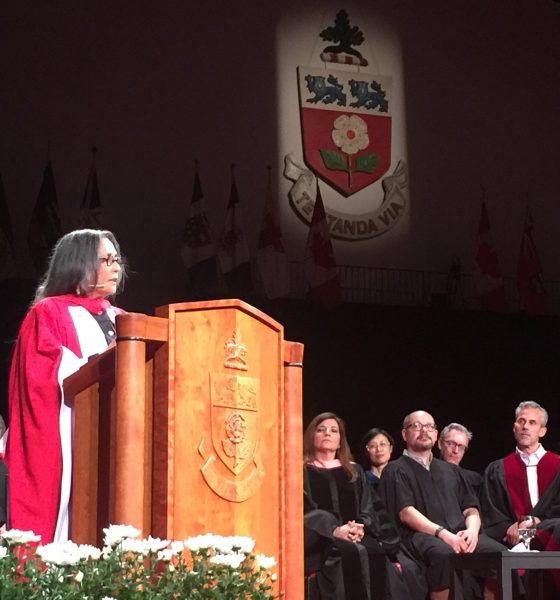 A legend in the Canadian and international film industries, Mehta was born in Amritsar, Punjab (India) in 1950. She graduated with a degree in philosophy from the University of Delhi before joining a production company, making educational films and documentaries for the Indian Government. Soon after, she began producing her own documentaries before moving to Canada. Since then, she has created numerous television series, and directed and produced many critically-acclaimed documentaries and feature films.
Much of Mehta's career has reflected the duality of her cultural identity, as well as her tendency to cast light on more proscribed or taboo topics. This is noted in her celebrated Elements Trilogy: Fire (1996); Earth (1998); and Water (2005). While these films elevated her reputation and status, they also brought criticism and protest from certain groups.
Mehta's works have been showcased at the Cannes Film Festival and the Toronto International Film Festival. She has received both Genie Awards and an Oscar nomination. In 2012, she received Canada's highest honour in the performing arts, the Governor General's Performing Arts Awards for Lifetime Artistic Achievement. She was made a Member of the Order of Ontario in 2013 and was also appointed an Officer of the Order of Canada. She has received 16 honorary degrees.
An artistic leader, Deepa Mehta's accomplishments inspire filmmakers to push the boundaries.
York University champions new ways of thinking that drive teaching and research excellence. Our students receive the education they need to create big ideas that make an impact on the world. Meaningful and sometimes unexpected careers result from cross-disciplinary programming, innovative course design and diverse experiential learning opportunities. York students and graduates push limits, achieve goals and find solutions to the world's most pressing social challenges, empowered by a strong community that opens minds. York U is an internationally recognized research university – our 11 faculties and 25 research centres have partnerships with 200+ leading universities worldwide. Located in Toronto, York is the third largest university in Canada, with a strong community of 53,000 students, 7,000 faculty and administrative staff, and more than 300,000 alumni. York U's fully bilingual Glendon Campus is home to Southern Ontario's Centre of Excellence for French Language and Bilingual Postsecondary Education.
Media Contact: Janice Walls, Media Relations, York University, 416 455 4710, wallsj@yorku.ca