TORONTO, March 8, 2017 – International Women's Day is March 8 and March is National Engineering Month in Canada. With the theme for this year's IWD being "Be Bold for Change" and a spotlight on gender equality, what are the barriers women still face in STEM fields How are female and male educators supporting gender equality in engineering? How far have engineering schools come when it comes creating opportunities for women in their fields?
As the global conversation on expanding leadership opportunities for women intensifies, the Lassonde School of Engineering, at York University, has paved the way to embark to achieve gender balance at the school through the Lassonde 50:50 Challenge. Among the initiatives supported is the School's Women in Science and Engineering (WISE) chapter.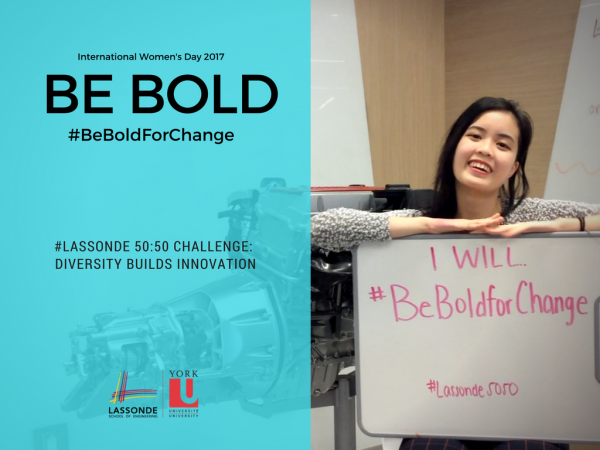 York University experts are available to comment on these and other topics including the opportunities and challenges of students and educators in engineering:
Marisa Sterling, Assistant Dean, Inclusivity & Diversity
The position of Assistant Dean, Inclusivity & Diversity, was established in 2015 to develop the long-term strategy to increase the presence of women, and other underrepresented groups, at all levels of the Lassonde School of Engineering.
Marisa Sterling, the first appointee to this role, led the Ontario Professional Engineers Foundation for Education, where she oversaw annual scholarships for engineering students across Ontario universities. She earned a bachelor's degree in Chemical Engineering and Applied Chemistry from the University of Toronto, and holds a PEng designation.
Franz Newland obtained his PhD in the department of Aeronautics and Astronautics at the University of Southampton (UK).
He did post-doctoral research at the Centre National d'Etudes Spatiales in Toulouse, focusing on tracking spacecraft and debris near the geostationary arc using a fully-automated telescope based in Haute Provence.
He worked on European Space Agency missions, at CNES' ATV control centre and at COM DEV Ltd. in Cambridge on nanosatellite and microsatellite missions.
James Smith
James Andrew Smith received B.Sc. and M.Sc. degrees in Electrical Engineering from the University of Alberta. Following the completion of his Ph.D. in Mechanical Engineering at McGill University he undertook a postdoctoral fellowship at the University of Jena's Institute for Sports Science in Germany.
His research focus applies a background in robotics, biomechanics and 3D printing to the development of dynamic human birth models.
Lassonde School of engineering students, Bita Pihani, 2nd year civil engineering and Salima Ibrahim, 3rd year civil engineering are also available for interviews.
York University is known for championing new ways of thinking that drive teaching and research excellence. Our students receive the education they need to create big ideas that make an impact on the world. Meaningful and sometimes unexpected careers result from cross-discipline programming, innovative course design and diverse experiential learning opportunities. York students and graduates push limits, achieve goals and find solutions to the world's most pressing social challenges, empowered by a strong community that opens minds. York U is an internationally recognized research university – our 11 faculties and 26 research centres have partnerships with 200+ leading universities worldwide. Located in Toronto, York is the third largest university in Canada, with a strong community of 53,000 students, 7,000 faculty and administrative staff, and more than 295,000 alumni.York U's fully bilingual Glendon campus is home to Southern Ontario's Centre of Excellence for French Language and Bilingual Postsecondary Education.
Media contact:
Anjum Nayyar, Media Relations, 416 736 2100 ext. 44543