TORONTO, July 2, 2015 – A new book co-authored by York University Professor Laurence Packer takes an up-close and personal look at more than 100 bees from around the world with photographs by Sam Droege.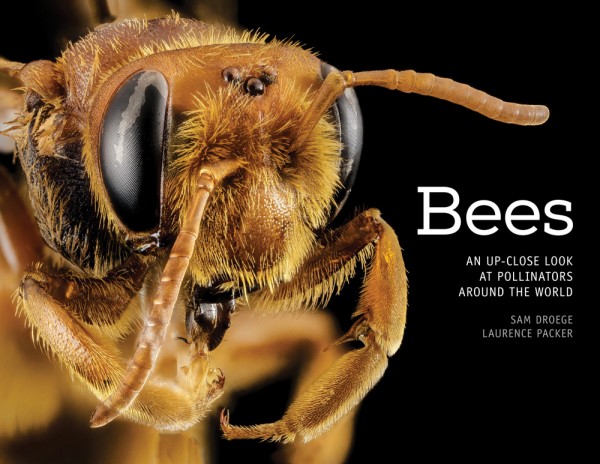 In Bees: An Up-Close Look at Pollinators Around the World, Packer and Droege provide vignettes that looks at how bees make their living, characteristic adornments, body modifications, habits and even hair style. The book examines all seven bee families and some of the most spectacular species within them. It includes some species that are so rare that they have not yet been described.
Droege's photographs display the tiniest detail of colour and pattern, offering a snapshot of some of the more than 20,000 species of bees.
What: Bees: An Up-Close Look at Pollinators Around the World (Voyageur Press). Published July 1.
Who: York University biology Professor and bee expert Laurence Packer, head of The Packer Lab.
Laurence Packer is a professor of biology at York University, Toronto, where he teaches courses in Entomology and Biodiversity, and runs a large research group comprised of numerous melittologists at various stages of their careers. He has authored or co-authored more than 140 research articles on various aspects of bee biology and together with his research team he has described over 100 bee species. He is the author of Keeping the Bees (HarperCollins).
Sam Droege is a wildlife biologist at the Patuxent Wildlife Research Center, part of the United States Geological Survey. He is widely published in journals and has been the editor of numerous government publications on birds and insects. His work cataloging and photographing bees has been featured by NPR, The Weather Channel, and the National Wildlife Federation, as well as in numerous publications, including Wired, the Wall Street Journal and Popular Science.
-30-
York University is helping to shape the global thinkers and thinking that will define tomorrow. York U's unwavering commitment to excellence reflects a rich diversity of perspectives and a strong sense of social responsibility that sets us apart. A York U degree empowers graduates to thrive in the world and achieve their life goals through a rigorous academic foundation balanced by real-world experiential education. As a globally recognized research centre, York U is fully engaged in the critical discussions that lead to innovative solutions to the most pressing local and global social challenges. York U's 11 faculties and 27 research centres are thinking bigger, broader and more globally, partnering with 288 leading universities worldwide. York U's community is strong − 55,000 students, 7,000 faculty and staff, and more than 275,000 alumni.
Media Contact:
Sandra McLean, York University, 416-736-2100 ext. 22097 / sandramc@yorku.ca