Two York University Professors are available to speak to media about the spread of blacklegged ticks in Canada and the potential threat of Lyme disease in areas such as Toronto, where ticks found on one of the Toronto Islands and in local parks are being tested for the disease.
Professor Jianhong Wu, Director of the York Institute for Health Research, leads a team that has developed the first national map of Lyme tick populations, a colour-coded illustration of the spread of ticks in Canada. A Canada Research Chair in Industrial and Applied Mathematics, Wu designs models to predict the spread of diseases such as Lyme. He can comment on the spread of Lyme ticks in Canada due to global warming and the potential for Lyme disease. The national map shows that part of Ontario has already become suitable habitat for Lyme ticks due to climate change and ticks are expected to be found in much of Ontario in the next 30 years and beyond. To accurately predict the spread of Lyme disease, Wu and researchers from many fields are working together to produce a similar map for disease itself.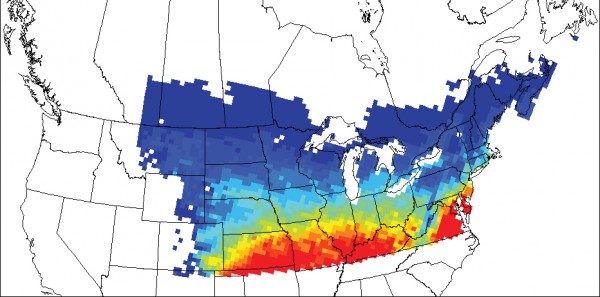 May showing where ticks will be established in 30 years.
Jean-Paul Paluzzi, an assistant professor in the Department of Biology, can discuss what ticks require to survive and how they pass along the bacterium Borrelia burgdorferi, which causes Lyme disease. Paluzzi's research examines how hormones and other signaling molecules control basic tick biology (water and electrolyte balance, reproduction, growth, etc.) While the best preventative currently is to avoid tick bites by wearing repellents and long clothes, Paluzzi's longer-term goal is to help in the development of tools and/or strategies to control the ticks.
Media Contacts:
Janice Walls, York University Media Relations, 416 736 2100 ext. 22101 / wallsj@yorku.ca
Sandra McLean,  York University Media Relations, 416 736 2100 ext. 22097 / sandramc@yorku.ca