Toronto, Sept. 9, 2014 − Dubbed "Canada's coolest poet", York University English Professor Priscila Uppal has received one of the country's highest forms of recognition – election as a Fellow to the Royal Society of Canada (RSC).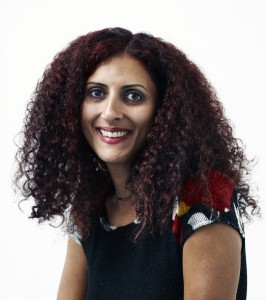 Uppal has accomplished a great deal in her 39 years. She has published 10 collections of poetry, two novels, a memoir, a play, an academic monograph and several anthologies. Her poetry includes Traumatology (2010), Successful Tragedies: Poems 1998-2010 (2010), Winter Sport: Poems (2010) and Ontological Necessities, which was shortlisted for the Griffin Poetry Prize.
"This is a wonderful achievement for Professor Uppal, who exemplifies the excellence, dedication and engagement of our York faculty," says York President and Vice-Chancellor Mamdouh Shoukri. "A gifted poet, writer, and teacher, she is an incredible role model for our students and for the arts community. On behalf of all of us at the University, I'd like to congratulate her on this special recognition of her contributions."
Uppal's other work includes the critically-acclaimed novels The Divine Economy of Salvation (2002) and To Whom It May Concern (2009); and the study We Are What We Mourn: The Contemporary English-Canadian Elegy (2009), as well as the memoir Projection: Encounters with My Runaway Mother (2013), which was nominated for the Governor General's Literary Award and the Hilary Weston Prize for Non-Fiction.
"It's a big honour and it obviously puts me in the company of some very remarkable people, past and present," says Uppal, who is one of 90 new Fellows announced Tuesday by the RSC. "I'm also thrilled to be inducted at such a young age, which I understand is quite rare."
Uppal's work has been translated into Dutch, French, Greek, Italian, Korean, Latvian and Serbo-Croatian. Uppal was the first-ever poet-in-residence for Canadian Athletes Now during the summer and winter Olympics and Paralympic games, as well as the Rogers Cup tennis.
"I was very pleased to see that recognition for my work, but also the continued recognition…that creative work is a form of research that is highly respected and it is a field of knowledge that is important and vital to society and to Canadian citizenship," adds Uppal.
She is looking forward to the opportunity to learn about research and discoveries in drastically different fields from her own. She believes one of the strengths of the RSC is that is brings people together from such diverse disciplines allowing for a cross-pollination of ideas and the spawning of innovative ways of thinking, adapting and approaching one's work.
"I'm delighted to be a Fellow," she says. "It's a great honour to represent the arts at York, but also to represent the field of artistic production and inquiry. It should be seen as not only a legitimate form of research, but also as an incredibly important one that can stand side by side the hard sciences and other more conventional forms of scholarship."
The RSC website states that the "fellowship of the RSC comprises distinguished men and women from all branches of learning who have made remarkable contributions in the arts, the humanities and the sciences, as well as in Canadian public life". Uppal will join the ranks of more than 2,000 Canadian scholars, artists and scientists, who have been peer-elected as the best in their field.
Uppal will be inducted as a Fellow in the Royal Society of Canada's Academy of the Arts and Humanities on Saturday, Nov. 22 in Quebec City.
York University is helping to shape the global thinkers and thinking that will define tomorrow. York U's unwavering commitment to excellence reflects a rich diversity of perspectives and a strong sense of social responsibility that sets us apart. A York U degree empowers graduates to thrive in the world and achieve their life goals through a rigorous academic foundation balanced by real-world experiential education. As a globally recognized research centre, York U is fully engaged in the critical discussions that lead to innovative solutions to the most pressing local and global social challenges. York U's 11 faculties and 27 research centres are thinking bigger, broader and more globally, partnering with 288 leading universities worldwide. York U's community is strong − 55,000 students, 7,000 faculty and staff, and more than 250,000 alumni.
-30-
Media Contact: Janice Walls, Media Relations, York University, 416 736 2100 x22101/ wallsj@yorku.ca