Toronto, Oct. 9, 2012 – Six-time Olympic medalist Clara Hughes, who has inspired Canadians both as a cyclist and speed skater and is now dedicated to breaking down the stigma around mental illness, will receive an honorary Doctor of Laws degree from York University on Wednesday, October 10. She will address graduates at the 3:30pm Convocation at the Tennis Canada Rexall Centre on York's Keele Campus (see map).
One of the biggest stories in Canadian sports, Hughes is the only athlete in history to win multiple medals in both Summer and Winter Games. She was given the great honour of being the Canadian Flag Bearer for the 2010 Vancouver Olympic Games, proudly leading the team to an historic medal winning performance.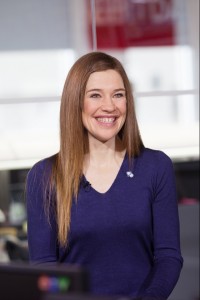 While she has pursued her dreams through the world of sports, Hughes' ultimate goal has been to motivate youth and inspire hope in others through her actions. After winning gold in 2006, she donated $10,000 to Right to Play, raising more than half a million dollars for the international humanitarian organization that promotes sport for development. In 2010, she donated her $10,000 medal bonus to the Vancouver inner city school program Take a Hike, which uses adventure-based learning to give youth at risk a better direction in life.
As National Spokesperson for Bell Canada's Mental Health initiative and the Let's Talk campaign, Hughes has shared her past struggles with depression, helping to break down the stigma associated with mental illness.
She is an Officer of the Order of Canada and a Member of the Order of Manitoba, and has been awarded the International Olympic Committee's prestigious Sport and the Community award for her commitment to promoting the values of sport and play around the world. She also has a star on Canada's Walk of Fame.
Convocation ceremonies will take place at the Convocation Pavilion located at the Rexall Centre, 1 Shoreham Drive, at York University's Keele campus.
Ceremonies will be webcast at the following link, which will become live when ceremonies begin: http://www.yorku.ca/mygrad/livewebcast.
-30-
York University is helping to shape the global thinkers and thinking that will define tomorrow. York's unwavering commitment to excellence reflects a rich diversity of perspectives and a strong sense of social responsibility that sets us apart. A York U degree empowers graduates to thrive in the world and achieve their life goals through a rigorous academic foundation balanced by real-world experiential education. As a globally recognized research centre, York is fully engaged in the critical discussions that lead to innovative solutions to the most pressing local and global social challenges. York's 11 faculties and 28 research centres are thinking bigger, broader and more globally, partnering with 288 leading universities worldwide. York's community is strong − 55,000 students, 7,000 faculty and staff, and more than 250,000 alumni.
 Media Contact:
Janice Walls, Media Relations, York University, 416 736 2100 x22101 / wallsj@yorku.ca
Joanne Rider, Chief Spokesperson and Director, Media Relations, York University, 416 736 5593 / jrider@yorku.ca