Toronto, Oct. 9, 2012 – Leading figure in the Canadian music industry, Bernie Finkelstein, will receive an honorary Doctor of Letters degree from York University on Wednesday, October 10. He will address graduates at the 10:30am Convocation at the Tennis Canada Rexall Centre on York's Keele Campus (see map).
For more than 45 years, Bernie Finkelstein has been one of the leading figures in both the Canadian and worldwide music industry.
He began his career managing two of Canada's earliest internationally known groups, The Paupers and Kensington Market, and later handled such stars as Bruce Cockburn, Murray McLauchlan, Dan Hill, Barney Bentall, Stephen Fearing and Blackie & The Rodeo Kings.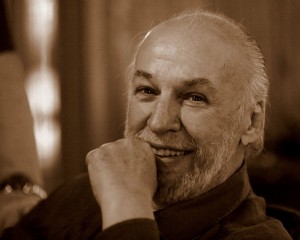 In 1969, he founded True North Records, Canada's oldest and one of its largest independent record companies. With more than 500 releases, 40 Juno Awards and 40 gold and platinum records to its credit, True North is an incredible Canadian success story. In addition, he started The True North Publishing Group, which had extensive interests in music publishing and overseeing a rich catalogue of works by song-writers including Bruce Cockburn.
His industry involvement is extensive. He served as Chairman of the Ontario Film Development Corporation, the Canadian Independent Record Production Association (CIRPA), and MUCHFact. He has also served as a board member of the Canadian Association of Recording Arts and Sciences (CARAS), the Toronto Arts Awards and Starmaker.
He has been honoured with the Walt Grealis Special Achievement Award at the Juno Awards (the highest honour given to a non-musician by the music industry), the Estelle Klein award, the Order of Canada, and election into the Canadian Music Hall of Fame. In 2012, he released his memoirs, True North (A Life in the Music Business).
Convocation ceremonies will take place at the Convocation Pavilion located at the Rexall Centre, 1 Shoreham Drive, at York University's Keele campus.
Ceremonies will be webcast at the following link, which will become live when ceremonies begin: http://www.yorku.ca/mygrad/livewebcast.
-30-
York University is helping to shape the global thinkers and thinking that will define tomorrow. York's unwavering commitment to excellence reflects a rich diversity of perspectives and a strong sense of social responsibility that sets us apart. A York U degree empowers graduates to thrive in the world and achieve their life goals through a rigorous academic foundation balanced by real-world experiential education. As a globally recognized research centre, York is fully engaged in the critical discussions that lead to innovative solutions to the most pressing local and global social challenges. York's 11 faculties and 28 research centres are thinking bigger, broader and more globally, partnering with 288 leading universities worldwide. York's community is strong − 55,000 students, 7,000 faculty and staff, and more than 250,000 alumni.
Media Contact:
Janice Walls, Media Relations, York University, 416 736 2100 x22101 / wallsj@yorku.ca
Joanne Rider, Chief Spokesperson and Director, Media Relations, York University, 416-736-5593 / jrider@yorku.ca