Made possible by $1.2-million donation from RBC Foundation, as part of RBC Future Launch
York University has received a $1.2-million donation from the RBC Foundation as part of RBC Future Launch, directly supporting the work of the Jean Augustine Chair in Education, Community and Diaspora, held by well-known educator Professor Carl James — in partnership with colleagues from four universities across the country: Kevin Hewitt, Physics Professor from Dalhousie University, Juliet Daniel, Associate Dean of Research from McMaster University, Jennifer Adams, Canada Research Chair in Creativity & STEM and Associate Professor from University of Calgary, and Annette Henry, Professor, Language and Literacy Education from University of British Columbia. This generous donation is creating and building on James' education initiatives for Black youth in priority areas including student success, pathways to education, and support for Black scholars.
Established in 2008, the Jean Augustine Chair is an endowed Chair established by the Honourable Jean Augustine, the first Black woman elected to the Parliament of Canada, and champion of the unanimous vote in 1995 that saw February designated as Black History Month. The Chair is one of only two endowed university chairs in Canada dedicated to research and knowledge mobilization endeavours on Black and African-descended communities.
It is anticipated that up to 900 high school and university students, and postdoctoral scholars could be served through the various projects as part of the Securing Black Futures: A National Partnership to Advance Youth Academic & Career Success program. RBC Foundation's $1.2-million donation will provide direct support to the Chair's programs in four key areas, including:
Hosting the first ever National Conference for Black youth in Canada;
Supporting student pipeline initiatives at York and up to four other universities across Canada that will bring high school students onto university campuses, thereby enabling them to imagine themselves participating in post-secondary education;
Establishing a new Canadian data hub that will strengthen research and information capacity and inform better public policy; and
Creating new opportunities, supports and training for young Black scholars who as graduate students and post-doctoral fellows will engage in research, teaching and mentorship activities that will serve as resources to local Black communities.
The research component will build on existing Canadian census data with a longitudinal study of grade 11 and 12 students over a three-year period, informing the development of new community-based and student-support programs, and will for the first time facilitate the sharing of documentation and data across Canadian universities — allowing for geographical and contextual comparisons to be made.
The Research & Data Hub brings together school boards largely from Metropolitan Toronto (Durham Region, Peel Region, York Region, Toronto, Toronto Catholic and Ottawa) to act as a central repository of census data that will provide the first broad-based educational and social profile of youth in far greater depth than that which is presented by Statistics Canada. It will tell of the conditions which shape the experiences of children and youth; identify particular challenges and/or barriers to their educational and social success; make visible institutional and structural inequities across sectors, communities and regions; and most importantly, provide opportunities to develop effective and transformative interventions. With research data and knowledge translation, children, youth, families, educators, youth workers, and social service providers will benefit.
RBC Future Launch is a 10-year, $500 million commitment to empower Canadian youth for the jobs of tomorrow. With a focus on networking, skills development, practical work experience and mental wellbeing supports and services, the initiative aims to help break down the barriers facing young people. In 2020, RBC announced a series of actions against systemic racism — including a commitment to invest $50 million by 2025 through RBC Future Launch to create meaningful and transformative pathways to prosperity for up to 25,000 BIPOC youth with investments in areas such as skills development and mentoring.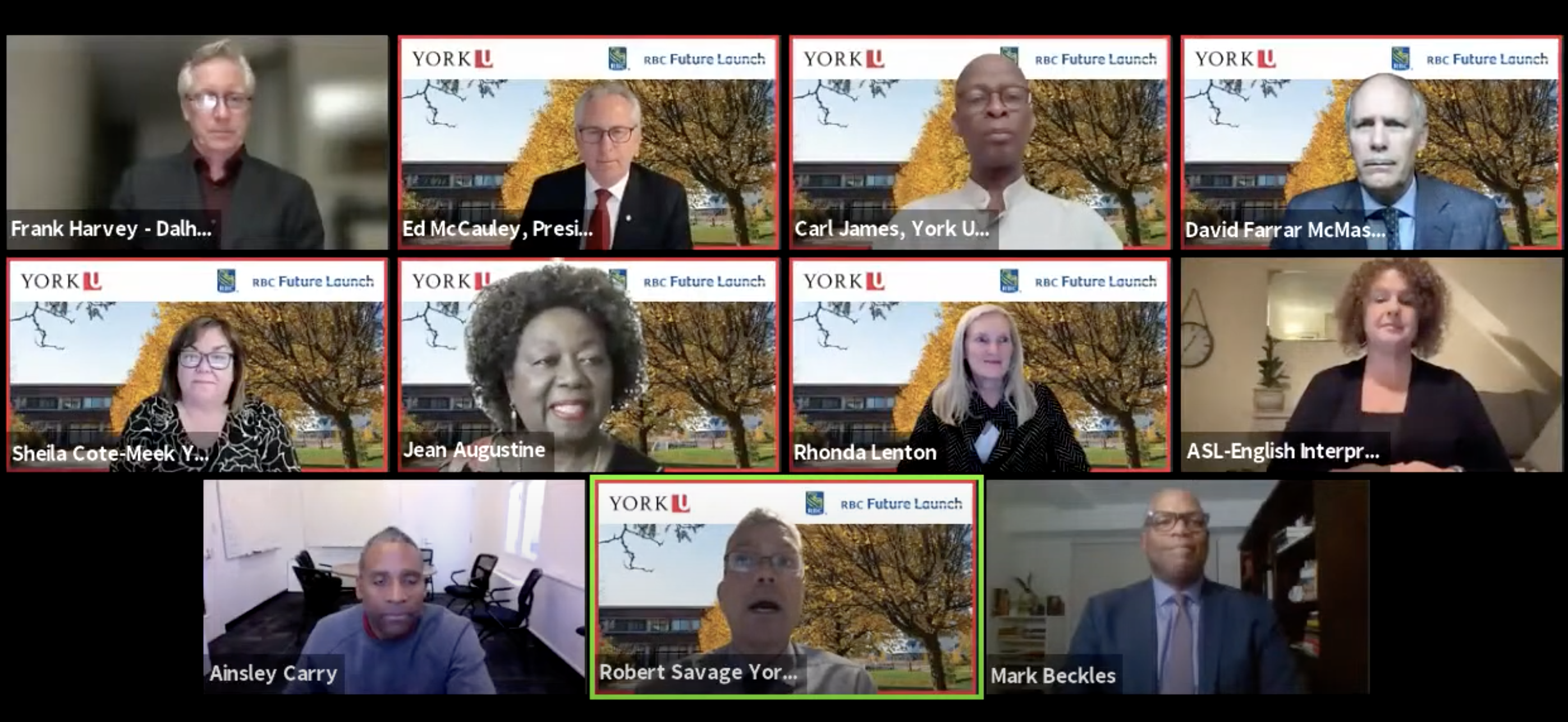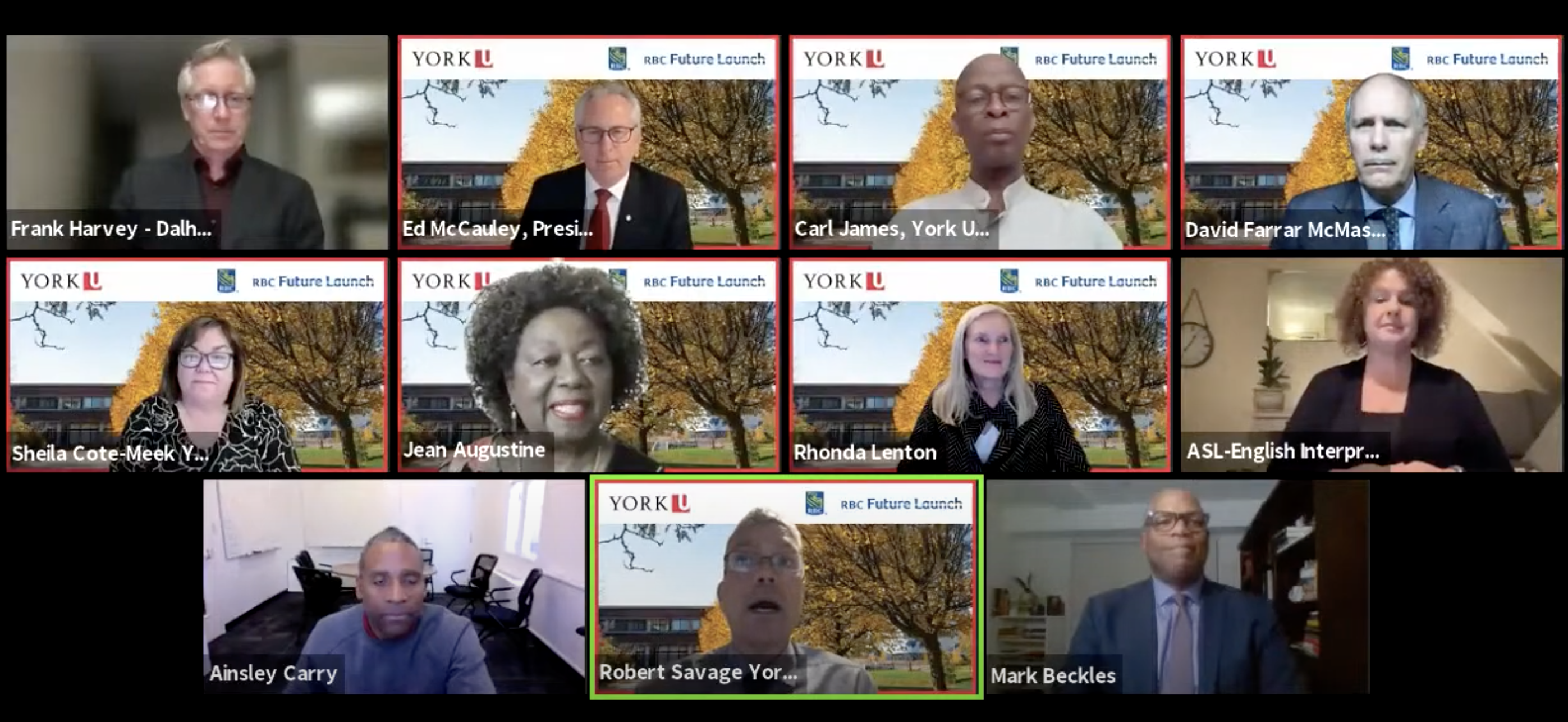 Building on previous work, and working with all university community partners, York has re-doubled efforts to advance specific initiatives and strategies to support Black scholars, and directly address anti-Black racism. Through innovative programs, including the research and scholarly work of Prof. James, the Jean Augustine Chair, our unique Black Canadian Studies Certificate, and the new Postdoctoral Program for Black and Indigenous Scholars, we are putting this responsibility at the centre of our teaching and research.
The program kicked off with a virtual celebration event which included:
Rhonda Lenton, President & Vice-Chancellor, York University, Robert Savage, Dean of the Faculty of Education, Sheila Cote-Meek, Vice-President Equity, People & Culture, Jean Augustine, the Honourable Jean M. Augustine, Mark Beckles, Vice President, Social Impact & Innovation, RBC Corporate Citizenship, Ed McCauley, President & Vice-Chancellor, University of Calgary, David Farrar, President & Vice-Chancellor, McMaster University, Ainsley Carry, VP Students, University of British Columbia, Frank Harvey, Provost and VP Academic, Dalhousie University and a pre-recorded message from, Santa Ono, President, University of British Columbia. The event also featured a panel discussion with Carl James, Jean Augustine Chair in Education, Community & Diaspora, Faculty of Education, York University, Juliet Daniel, Professor and Associate Dean of Research & External Relations - Faculty of Science, McMaster University, Annette Henry, David Lam Chair in Multicultural Education, University of British Columbia, Kevin Hewitt, Professor of Physics, Department of Physics & Atmospheric Science Dalhousie University, Jennifer Adams, Associate Professor and Canada Research Chair, Creativity and STEM, University of Calgary.
Watch the full event below:
Quotes
"My research, academic, and community work has long been guided by the urgent need to support Black youth as they strive for success in the face of longstanding systemic barriers in education, and in society," said Prof. Carl James, who holds the Jean Augustine Chair. "RBC Future Launch, designed to support a variety of community-centred initiatives for young people, is a deeply appreciated contribution; and I'm pleased that the work of the Chair — particularly its programs that seek to support Black youth across Canada — will benefit significantly from this generous donation."
"The Jean Augustine Chair is addressing the systemic barriers and racial inequalities in the Canadian education system which is vital to an equitable future," said the Hon. Jean Augustine. "Focusing on empowering Black youth today through high-quality education, providing a central source for data to inform decisions on policy and practice, and providing Black scholars with research experience to build capacity and skills, will address diverse representation in areas such as academia and industry for generations to come."
"We are excited to be partnering with York University to deliver on the promise of RBC Future Launch: helping young Canadians prepare for the future of work," said Mark Beckles, Vice President, Social Impact & Innovation, RBC. "Through the resources and mentorship opportunities supported by our partnership, we are directly empowering more Black youth to achieve post-secondary success. Further, the research produced by the data hub will generate long-term, positive impact by informing the systems and supports offered to Black youth across Canada — including RBC Future Launch."
"York University is committed to offering a diverse student population access to a high-quality, research-intensive university committed to the social, economic, cultural, and environmental well-being of society," said Rhonda L. Lenton, President and Vice-Chancellor. "This generous donation, made possible by the RBC Foundation, will support Professor James' trailblazing work to build pathways for Black youth to pursue their educational goals, and provide new opportunities for current and future Black scholars to drive positive change at York, across Canada, and beyond."
Videos
Watch President and Vice-Chancellor Rhonda Lenton's announcement about York's financial commitment to the Jean Augustine Chair in Education, Community and Diaspora:
Watch what Professor Carl James has to say about the program:
Watch remarks from Mark Beckles, Vice-President, Social Impact and Innovation, RBC:
York University is a modern, multi-campus, urban university located in Toronto, Ontario. Backed by a diverse group of students, faculty, staff, alumni and partners, we bring a uniquely global perspective to help solve societal challenges, drive positive change and prepare our students for success. York's fully bilingual Glendon Campus is home to Southern Ontario's Centre of Excellence for French Language and Bilingual Postsecondary Education. York's campuses in Costa Rica and India offer students exceptional transnational learning opportunities and innovative programs. Together, we can make things right for our communities, our planet, and our future.
Media contact: Kayla Lewis, York University Media Relations, cell 416-455-4710, lewiskay@yorku.ca