TORONTO, June 25, 2021 – IP Osgoode, Osgoode Hall Law School's Intellectual Property Law and Technology, is hosting Bracing for Impact Series: AI's Dirty Footprint, on Monday, June 28.
This webinar will bring together experts from academia as well as the public and private sectors to discuss the positive and negative impact artificial intelligence (AI) innovation can have on climate change.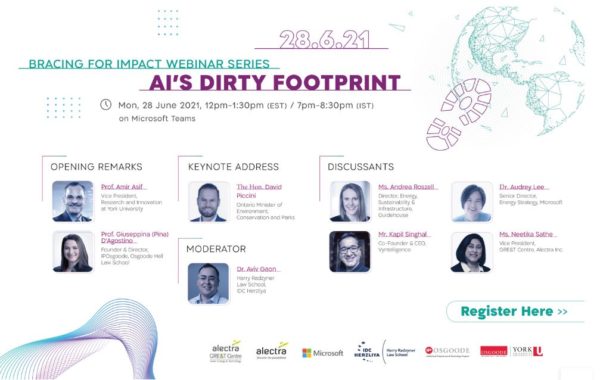 As governments across Canada seek to empower SMEs, knowledge about sustainable innovation practices will become even more important and relevant, according to the organizers. They believe the companies that incorporate environmentally friendly practices from the ground up will be better equipped to maintain these practices, rather than changing them further down the line. As a result, the webinar aims to highlight considerations that will help innovators and the general public to make informed choices about AI systems.
Hon. David Piccini, Minister of Environment, Conservation and Parks, will deliver the keynote address.
"I am especially proud of this event as it brings together experts who can meaningfully play a leading role in solving our environmental crisis. With the ever-increasing development and adoption of AI, solutions mindful of the climate consequences must be built in from the outset, and not when it is too late. It can and should be a win-win-win for all," says Professor Pina D'Agostino, Founder and Director of IP Osgoode, who will offer opening and closing remarks. Amir Asif, Vice-President Research and Innovation at York University will provide the welcome address.
Aviv Gaon of IDC Herzliya will moderate a discussion about how experts foster sustainability in their innovative work. Panelists will include Andrea Roszell, Director of Energy Sustainability & Infrastructure at Guidehouse, Audrey Lee, Senior Director of Energy Strategy at Microsoft, Kapil Singhal, Co-Founder and CEO of Vyntelligence, and Neetika Sathe, Vice President of GRE&T Centre.
Click here for event and registration information.
About IP Osgoode
Conceptualized & founded in 2008 by Professor Pina D'Agostino, IP Osgoode, the Intellectual Property (IP) Law and Technology Program at Osgoode Hall Law School, is an independent and authoritative voice which explores legal governance issues at the intersection of intellectual property and technology. IP Osgoode cultivates interdisciplinary, comparative and transnational research, collaboration, policy-thinking and practice on the basis of a tight connection between teaching, research and clinical action. IP Osgoode has put Osgoode and York University on the map in the global IP debate. We aim to influence the IP debate in Canada and internationally by educating our students and collaborating with the IP community in Canada and worldwide. Together, we have built an innovative program that is cutting-edge and completely unique to Osgoode.
About Osgoode Hall Law School
Osgoode Hall Law School of York University has a proud history of 130 years of leadership and innovation in legal education and legal scholarship. A total of about 900 students are enrolled in Osgoode's three-year Juris Doctor (JD) Program as well as joint and combined programs. The school's Graduate Program in Law is also the largest in the country and one of the most highly regarded in North America. In addition, Osgoode Professional Development, which operates out of Osgoode's facility in downtown Toronto, offers both degree and non-degree programming for Canadian and international lawyers, non-law professionals, firms and organizations. Osgoode has an internationally renowned faculty of 60 full-time professors, and more than 100 adjunct professors. Our respected community of more than 18,000 alumni are leaders in the legal profession and in many other fields in Canada and across the globe.
About York University
York University champions new ways of thinking that drive teaching and research excellence. Our students receive the education they need to create big ideas that make an impact on the world. Meaningful and sometimes unexpected careers result from cross-disciplinary programming, innovative course design and diverse experiential learning opportunities. York students and graduates push limits, achieve goals and find solutions to the world's most pressing social challenges, empowered by a strong community that opens minds. York U is an internationally recognized research university – our 11 faculties and 25 research centres have partnerships with 200+ leading universities worldwide. Located in Toronto, York is the third largest university in Canada, with a strong community of 53,000 students, 7,000 faculty and administrative staff, and more than 300,000 alumni.
York U's fully bilingual Glendon Campus is home to Southern Ontario's Centre of Excellence for French Language and Bilingual Postsecondary Education.
 Media Contact:
Gloria Suhasini, York University Media Relations, 416-736-2100 ext. 22094, suhasini@yorku.ca