Alumna Jay Pitter, grad students and Black urbanist placemakers collaborate on publication
TORONTO, March 18, 2021 – Spurred by the death of George Floyd, York University alumna and award-winning placemaker Jay Pitter brings her work in urban planning policy and anti-Black racism to the University to create a new resource – Engaging Black People and Power.
This powerful resource, developed in a Faculty of Environmental and Urban Change (EUC) graduate-level urban planning course of the same name taught by Pitter, will launch at a virtual event on March 22. Her forthcoming books, Black Public Joy and Where We Live, will be published later this year.
The project is a homecoming for Pitter, who completed her Master in Environmental Studies (MES) degree at York and who was excited to work again with her former MES advisor Professor Anders Sandberg.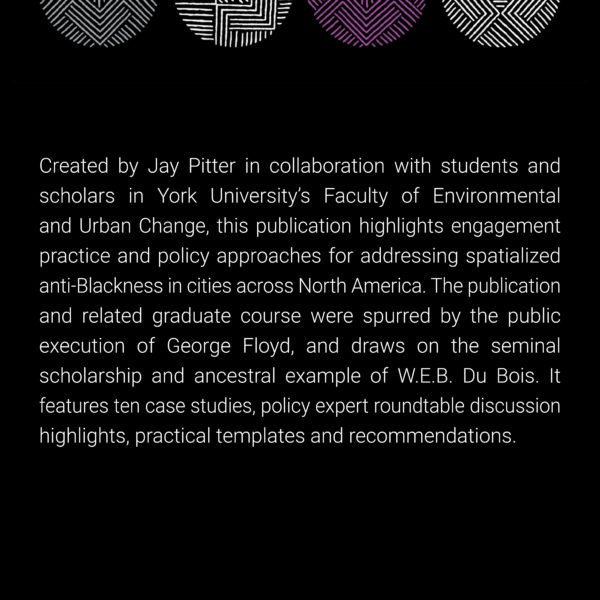 The course and the newly published resource draw on the seminal scholarship and ancestral example of W.E.B. Du Bois. The students reviewed theoretical texts and paired up to interview leading Black urbanists, including the commissioner of New York City's Department of Parks and Recreation, Mitchell Silver, an award-winning urban planner.
"Jay Pitter's Engaging Black People & Power brings together EUC students with members of the Black urbanist community to learn about anti-Blackness in planning practices, and to set a path for more just and equitable cities. Such experiential education opportunities are pivotal steps in addressing anti-Black racism and realizing transformational change," says EUC Dean Alice Hovorka.
The course highlights 10 case studies originating from these graduate student-led interviews, edited by Pitter, Sandberg and EUC Professor Luisa Sotomayor. Other project collaborators include EUC Professors Ute Lehrer and Roger Keil. The resource also features a case study of Anthony Taylor, Parks & Open Space commissioner for the Metropolitan Council of the Twin Cities in Minnesota, who has led numerous placemaking projects in his community, including the site where George Floyd died.
The publication identifies engagement practices and policy approaches for addressing spatialized anti-Blackness in cities across North America to address design, development, social justice and placemaking challenges. It also contains a living legend tribute to Silver, policy expert roundtable highlights, as well as recommendations and practical templates.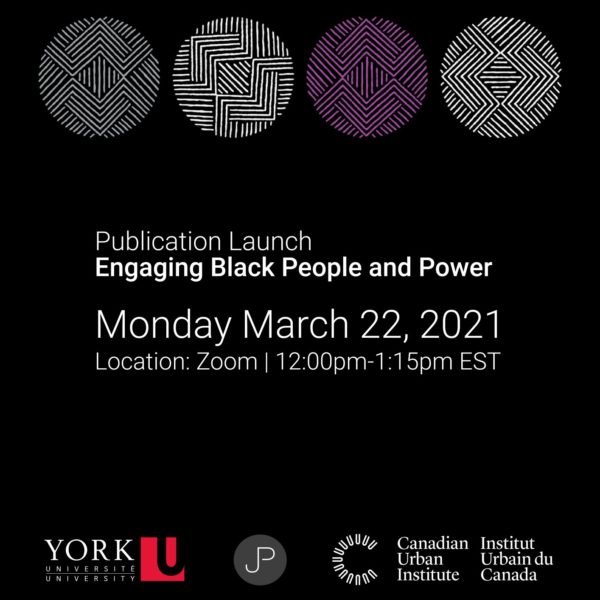 "Black ink on white pages, in response to Black blood on white streets, is not enough. A single publication cannot redress complex socio-spatial threats faced by Black communities. But it does play a small role in transforming long-standing conversations toward action," says Pitter, a recent John Bousfield Distinguished Visitor in Planning at University of Toronto and a senior fellow at the Canadian Urban Institute.
The case studies, including those by York graduate students Selam Eyob and Jasmine Mohamed (see their article in Azure magazine), exemplify forms of engagement with Black communities, including digital justice, development in blighted neighbourhoods, parks design, and creative placemaking with youth from Los Angeles' most notorious rival gangs.
"The question of whose history matters, and historical preservation is a challenge all urbanists should be grappling with, in order to deepen their commitment and accountability to addressing anti-Black racism," write Eyob and Mohamed. "The conversation with Mitchell Silver and the course overall left us thinking about how we can centre generosity as a key principle in our planning practice moving forward."
The publication is expected to have wide-reaching impacts in shaping placemaking and urban planning as a resource for community organizations, scholars, policymakers, urbanists, students and academic institutions to address challenges in equitable city planning.
"Jay's thought leadership continues to challenge policy makers, practitioners and city leaders to learn more about the legacies and ongoing implications of anti-Black racism in urbanism, and to work and build cities with people with the lived experience and insights needed to radically change the way our cities are built," says Mary W. Rowe, president and CEO, Canadian Urban Institute.
The launch event details:
WHEN: Monday, March 22, noon to 1:15 pm
WHO: MPP Adam Vaughan will deliver opening remarks, followed by Jay Pitter in conversation with Anthony Taylor, a living legacy tribute to and talk by Mitchell Silver, and more.
WHERE: Register for the webinar, hosted by York and the Canadian Urban Institute: https://us02web.zoom.us/webinar/register/WN_1YfhDdAGREqNM_o04Dnhew
-30-
York University is a modern, multi-campus, urban university located in Toronto, Ontario. Backed by a diverse group of students, faculty, staff, alumni and partners, we bring a uniquely global perspective to help solve societal challenges, drive positive change and prepare our students for success. York's fully bilingual Glendon Campus is home to Southern Ontario's Centre of Excellence for French Language and Bilingual Postsecondary Education. York's campuses in Costa Rica and India offer students exceptional transnational learning opportunities and innovative programs. Together, we can make things right for our communities, our planet, and our future. 
Media Contact:
Sandra McLean, York University Media Relations, 416-272-6317, sandramc@yorku.ca