TORONTO, Wednesday, November 18, 2020 —  An Osgoode Hall Law School clinic that provides free access to legal services for vulnerable investors has received a cy-près award of $157,750 from a class action settlement approved by the Ontario Superior Court of Justice.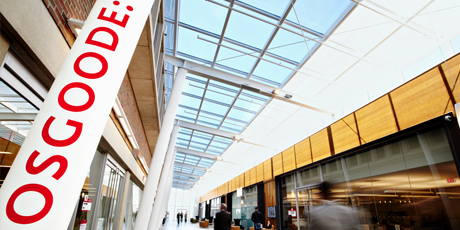 "The Osgoode Investor Protection Clinic fills a critical gap in the retail investment landscape. We're grateful for this award that allows us to continue our important work in the face of growing demand, while also raising awareness of the potential benefits of directing a cy-près award to our clinic," says Professor Poonam Puri, the clinic's academic director. Ontario's Class Proceedings Act gives the court discretion to grant cy-près (French for "as near as possible") awards when it's not cost-efficient or feasible to distribute the awarded funds to members of the class action.
The first of its kind in Canada, the Osgoode Investor Protection Clinic was launched at York University's Osgoode Hall Law School in 2016 to provide pro bono legal advice to people who believe their investments were mishandled and who cannot afford a lawyer. Funded by the Law Foundation of Ontario and the Investment Industry Regulatory Organization of Canada, the clinic pairs 12 second- and third-year Osgoode JD students for a year with supervising lawyers from leading business law firms in Ontario. Together, they support clients ranging from seniors who lost their entire retirement savings, to people swindled by trusted members of their community, to investors who had their portfolio mishandled by advisors.
Among many impacts, "the cy-près award will assist with the development of investor education, the recruitment of Osgoode students as summer interns and with the clinic's research activities," says Puri. By acting as a "living lab" to collect data, Puri and her team identify trends in investor protection, inform public policy debate and contribute to legal practice and reform.
The Osgoode Investor Protection Clinic was awarded the funds as the result of a decision by Justice Benjamin T. Glustein in a class action case involving global pharmaceutical company Endo International PLC. The representative plaintiff, an Endo investor, alleged that the company had misrepresented and/or omitted important information about its generic pharmaceutical business and certain other risks that, when revealed, caused a significant decline in the price of Endo's securities.
The court approved the cy-près donation at the request of the plaintiff and with the approval of the defendant "so as to provide an indirect benefit to Class Members on top of the monetary recovery that most of them will be entitled to under the U.S. Settlement," wrote Justice Glustein in his decision.
This marks the second time in as many years that the Osgoode Investor Protection Clinic has been named in a class action settlement.
"A cy-près award aims to serve the interests of class members, which makes us an ideal match in securities class action cases where it's impractical to directly compensate class members," points out Puri.
Osgoode alumni and legal representatives seeking further information on the Osgoode Investor Protection Clinic and court-directed awards are invited to contact Professor Poonam Puri at 416-736-5542 or ppuri@osgoode.yorku.ca.
-30-
About Osgoode Hall Law School
Osgoode Hall Law School of York University has a proud history of 131 years of leadership and innovation in legal education and legal scholarship. A total of about 900 students are enrolled in Osgoode's three-year Juris Doctor (JD) Program as well as joint and combined programs. The school's highly selective Graduate Program in Law is also one of the finest in the country and one of the most highly regarded in North America. In addition, Osgoode Professional Development, which operates out of Osgoode's facility in downtown Toronto, offers both degree and non-degree programming for Canadian and international lawyers, non-law professionals, firms and organizations. Osgoode has an internationally renowned faculty of almost 60 full-time professors, and more than 100 adjunct professors. Our respected community of more than 18,000 alumni are leaders in the legal profession and in many other fields in Canada and across the globe.
About York University
York University is known for championing new ways of thinking that drive teaching and research excellence. Our students receive the education they need to create big ideas that make an impact on the world. Meaningful and sometimes unexpected careers result from cross-discipline programming, innovative course design and diverse experiential learning opportunities. York students and graduates push limits, achieve goals and find solutions to the world's most pressing social challenges, empowered by a strong community that opens minds. York U is an internationally recognized research university – our 11 faculties and 26 research centres have partnerships with 200+ leading universities worldwide. Located in Toronto, York is the third largest university in Canada, with a strong community of 53,000 students, 7,000 faculty and administrative staff, and more than 300,000 alumni. York U's fully bilingual Glendon campus is home to Southern Ontario's Centre of Excellence for French Language and Bilingual Postsecondary Education.
Media Contacts:
Virginia Corner, Communications Manager, Osgoode Hall Law School of York University, 416-736-5820, vcorner@osgoode.yorku.ca
Gloria Suhasini, York University Media Relations, 416-736-2100 ext. 22094, suhasini@yorku.ca