First public university campus in York Region will open in 2023
TORONTO, July 24, 2020 – York University is moving forward with a bold plan to build the $275.5 million Markham Centre Campus (MCC) that will help drive economic growth and social development in York Region and Ontario.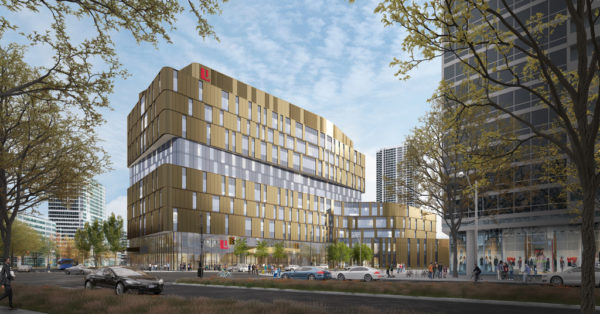 Construction of the new campus is expected to begin within a few days, with doors opening in the Fall of 2023. The MCC will accommodate up to 4,200 students with the flexibility to respond to future growth demands.
Today, the Ontario government announced its approval for York to proceed with this important new project which will continue to enhance access and affordability in post-secondary education and help meet the future skills needs of the Province and The Regional Municipality of York.
"The Markham Centre Campus will offer professionally relevant degree programs and micro-credentials with a strong focus on digital technologies, entrepreneurship and experiential education in high demand areas such as business and entrepreneurship, data analytics, new media and communications," said York University President and Vice-Chancellor Rhonda L. Lenton. "Located in one of the most dynamic and fastest-growing communities in Canada, we look forward to strengthening our partnerships with government, and the private and public sectors, to provide students with work integrated learning opportunities while they study, and local job prospects when they graduate."
The number of 18-22-year-olds in York Region is projected to grow by 34 per cent by 2041, the highest growth rate in Ontario. The MCC will allow prospective students to study closer to home while supporting the talent needs of the Region's burgeoning high-tech sector. Located in or near five provincially-significant employment zones, York Region is projected to create 15,000 jobs annually through 2030. The new campus will be a community of changemakers, fulfilling future labour market demands and civic leadership by giving future students the skills required for economic competitiveness and community development in Markham, York Region and across Ontario.
The site for the new campus, a 10-storey building near the corner of Enterprise Boulevard and Rivis Road in Markham, will also enable the York community to take advantage of existing and planned transportation infrastructure and community facilities such as the nearby Markham Pan Am Centre.
In recent years, York has increased its presence in York Region and the City of Markham. Innovation York, the University's research and innovation arm, is a major partner in the IBM Innovation Space-Markham Convergence Centre, and York's community innovation hub YSpace supports budding entrepreneurs in Markham. The University introduced academic programming in Markham for the first time last fall, with classes at the IBM Canada headquarters. Building a new dedicated campus building will help keep our talent local and be a magnet for jobs and investment.
The capital funding for the new $275.5-million campus includes significant financial commitments from York Region, the City of Markham, and donor contributions as well as the University's existing capital funds.
QUOTES:
"The time has come for a new, innovative approach to financing college and university expansions. Instead of the province writing multi-million-dollar cheques, we have developed a system that encourages the development of new campuses with a much smaller cost to the taxpayer. The new Markham Centre Campus is a model of responsible expansion, which will offer local students access to a world-class education and prepare them for the jobs of the future." – Doug Ford, Premier of Ontario
"Our province's postsecondary institutions play a fundamental role in Ontario's economy and will be key players in Ontario's economic recovery. By supporting self-funded campus expansions, we are encouraging independence and accountability, expanding choice and opportunities for our students, and protecting taxpayers." – Ross Romano, Minister of Colleges and Universities
"The York University Markham Centre Campus fits perfectly with the vision we have for Markham Centre; building on Markham's highly skilled, highly educated and diverse workforce. It will provide students with the necessary education, skills and training they need for the jobs of the future, and will provide them with workplace-based learning opportunities while they study in collaboration with local information and communication technology (ICT) companies. This will strengthen our position as a hub for innovation, while driving the prosperity of the Province, York Region and the City of Markham." – Frank Scarpitti, City of Markham Mayor
"Post-secondary school attraction remains a top priority for York Region's Economic Development Action Plan. Today's announcement solidifies the shared vision of York Region, The City of Markham, the Government of Ontario and York University to strengthen opportunities for students and enhance York Region as a destination of choice for higher learning and economic growth." – Wayne Emmerson, York Region Chairman and CEO 
Members of the media can download an artist rendering of the new Markham campus here.
York University champions new ways of thinking that drive teaching and research excellence. Our students receive the education they need to create big ideas that make an impact on the world. Meaningful and sometimes unexpected careers result from cross-disciplinary programming, innovative course design and diverse experiential learning opportunities. York students and graduates push limits, achieve goals and find solutions to the world's most pressing social challenges, empowered by a strong community that opens minds. York U is an internationally recognized research university – our 11 faculties and 25 research centres have partnerships with 200+ leading universities worldwide. Located in Toronto, York is the third largest university in Canada, with a strong community of 53,000 students, 7,000 faculty and administrative staff, and more than 300,000 alumni.
York U's fully bilingual Glendon Campus is home to Southern Ontario's Centre of Excellence for French Language and Bilingual Postsecondary Education.
Media Contact: Vanessa Thompson, York University Media Relations, 647-654-9452, vthomps@yorku.ca