TORONTO, Wednesday, April 22, 2020 – This year's Times Higher Education (THE) Impact Rankings place York University as a global leader when measured against the United Nations' 17 Sustainable Development Goals (SDGs). Overall, York placed 33rd out of 767 competing universities from around the world and achieved a top 100 spot in 15 of the 17 SDGs, a substantial gain over last year's rankings.
The rankings look at how universities around the world make progress against each of the UN's broad sustainability goals through research, stewardship, outreach and teaching.
This year's Impact Rankings have expanded, not only in the number of participating universities, up from 450 last year to 767 this year, but also through the increased number of SDGs, up to 17 from the 11 measured last year. Both indicate growing recognition of the importance of the SDGs and the essential role of universities in society.
"York is one of Canada's leading community-engaged universities, and our place in the Times Higher Education global rankings highlights the University's commitment to creating positive change for our students, our communities and the world," said Rhonda L. Lenton, President and Vice-Chancellor, York University. "In the era of COVID-19, it is more important than ever for universities to work with government, industry and community organizations to tackle serious economic, social and health challenges. I am proud that York has embraced its role in driving collaborative and innovative solutions."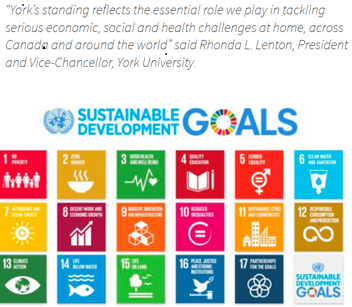 Impact rankings reflect York's values
York is a university committed to creating change that will help build stronger, more inclusive, equitable, resilient, and sustainable communities. Through our efforts, we rally community engagement and partnerships to make the world a better place. This approach gives our students, faculty, staff and alumni opportunities to contribute to solutions that will address the most pressing global challenges.
For the second consecutive year, York excelled in several areas, with top rankings out of 767 universities:
SDG 6 "Clean Water and Sanitation" – 5th place
SDG 10 "Reduced Inequalities" – 9th place
SDG 11 "Sustainable Cities and Communities" – 9th place
SDG 5 "Gender Equality" – 10th place
To view the complete list of SDG rankings, please visit: https://about.yorku.ca/times-higher-education-ranking/
York University champions new ways of thinking that drive teaching and research excellence. Our students receive the education they need to create big ideas that make an impact on the world. Meaningful and sometimes unexpected careers result from cross-disciplinary programming, innovative course design and diverse experiential learning opportunities. York students and graduates push limits, achieve goals and find solutions to the world's most pressing social challenges, empowered by a strong community that opens minds. York U is an internationally recognized research university – our 11 faculties and 25 research centres have partnerships with 200+ leading universities worldwide. Located in Toronto, York is the third largest university in Canada, with a strong community of 53,000 students, 7,000 faculty and administrative staff, and more than 300,000 alumni. York U's fully bilingual Glendon Campus is home to Southern Ontario's Centre of Excellence for French Language and Bilingual Postsecondary Education.
-30-
Media Contact: Barbara Joy, Director, Media Relations, 416-333-3374, barbjoy@yorku.ca