TORONTO, Sept. 25, 2019 – York University is continuing to expand its footprint in Markham by offering academic programming for the first time at IBM Canada's headquarters in Markham.
The classes will provide York University students the opportunity to benefit from a high-profile and dynamic environment where they can learn among academics, small and large businesses, entrepreneurs, start-ups and developers. The new space opened this month at the IBM headquarters while plans continue to establish a York University campus in Markham Centre.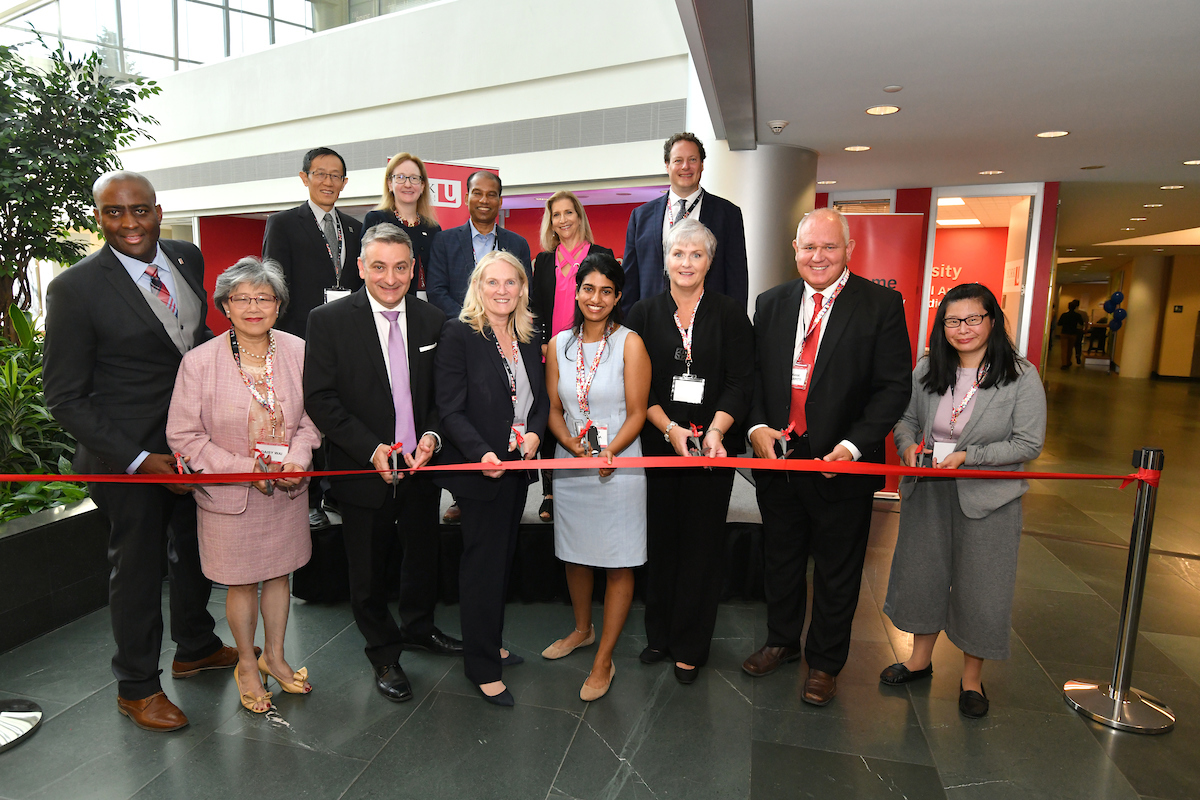 "York University is committed to better serving the growing population of 18- to 24-year-olds seeking postsecondary education in York Region, and to support entrepreneurship in the region through cross-sectoral collaboration," says York University President and Vice-Chancellor Rhonda L. Lenton. "York and IBM have a long history of supporting innovation, research and development and we are excited to have the opportunity to expand experiential learning for our students through this new initiative."
Third and fourth-year School of Administrative Studies students in York's Faculty of Liberal Arts & Professional Studies are taking Bachelor of Commerce courses at the new location and looking forward to the introduction of work-integrated-learning opportunities.
Networking events and lunchtime seminars for York students and IBM employees are scheduled for this fall. The program is also expected to have IBM employees as guest lecturers in relevant classes, to share knowledge and experience that directly supports the curriculum. Discussions are underway to expand internship opportunities for York students and explore how the micro-credentials of learning badges already offered by IBM may augment and support learning opportunities for students.
"York University and IBM have been strong collaborators for several decades, spanning Research & Development, Teaching and Learning initiatives. Today, we are excited to extend that partnership and welcome York University to our headquarters in Markham. Partnerships such as these are demonstrative of how cities, education institutions and technology companies can come together to shape the learning experience for students and build the skills of tomorrow," said Beth Bell, Vice President Enterprise and Commercial, IBM Canada.
Markham is already home to Innovation York which is located at IBM and to YSpace, which opened in downtown Markham in 2018. This new initiative with IBM further expands the university's presence in Markham and York Region.
Technology incubator ventureLAB, which supports tech start-ups, is also located in IBM Canada's headquarters, along with IBM Innovation Space, a hub to more than 40 tech companies.
Collaborative environments such as these create a strong opportunity for students with access to expertise, resources, and technologies needed to grow and enhance their skills.
"This now gives students an additional opportunity to study closer to home at IBM, one of Markham and Canada's leading technology companies, and Markham's largest employer. Markham is a hub for talent in the heart of York Region, Canada's second largest tech cluster. I applaud this collaboration; York University students will benefit from the opportunity to learn in a high-profile and dynamic environment among some of the best innovators, researchers and entrepreneurs," said Markham Mayor Frank Scarpitti.
York University champions new ways of thinking that drive teaching and research excellence. Our students receive the education they need to create big ideas that make an impact on the world. Meaningful and sometimes unexpected careers result from cross-disciplinary programming, innovative course design and diverse experiential learning opportunities. York students and graduates push limits, achieve goals and find solutions to the world's most pressing social challenges, empowered by a strong community that opens minds. York U is an internationally recognized research university – our 11 faculties and 25 research centres have partnerships with 200+ leading universities worldwide. Located in Toronto, York is the third largest university in Canada, with a strong community of 53,000 students, 7,000 faculty and administrative staff, and more than 300,000 alumni.
York U's fully bilingual Glendon Campus is home to Southern Ontario's Centre of Excellence for French Language and Bilingual Postsecondary Education.
Media Contact: Janice Walls, York University Media Relations, 416-455-4710, wallsj@yorku.ca