$2.2-million partnership with Alzheimer Society of York Region will establish Research Chair in Dementia Care
TORONTO, Sept. 17, 2019 – Retired York University professor Allan Carswell and his wife Helen have supported many philanthropic causes over the course of their 68 years together, both at York University and elsewhere. But their latest philanthropic effort is their most personal.
Helen Carswell has been living with Alzheimer's Disease for two decades. Her husband Allan is passionate about the need for research into the value of the type of dementia day programs and respite services that have meant so much to both of them in the past few years.
Today, in honour of Helen Carswell and in recognition of World Alzheimer's Month, York University and the Alzheimer Society of York Region announced a joint $2.26 million partnership to research Alzheimer's and dementia care. Funded by the Carswell Family Foundation, this gift will be used to advance research into the efficacy of dementia day programs, respite services, and various models of care as well as the benefits of integrating support for caregivers into the programming.
About 20 years ago, Helen was diagnosed with Alzheimer's disease and her cognitive abilities began to decline.
"There came a time when we just had to accept that Helen had an incurable disease and there was nothing we could do. Since 2012, Helen has been unable to stand, speak or do anything for herself," says Carswell. "But in recent years, we have had amazing support from the Alzheimer Society of York Region. That's why establishing this partnership is so important to us."
The partnership will enable York University to do the following:
Establish the Helen Carswell Research Chair in Dementia Care in York University's Faculty of Health (with an additional $1 million in matching funding from York University)
Provide funding for graduate research fellowships in dementia care, for Master's and PhD students at York, and
Support a program of evaluation, research and knowledge dissemination that is led by the Chair in Dementia Care, working collaboratively with the Alzheimer Society of York Region.
Carswell is a professor emeritus of physics who, while at York University, was instrumental in developing LIDAR systems, which use light in the form of a pulsed laser to measure distances. In 1974, he and Helen co-founded Optech Incorporated, a company that focused on developing Laser-based survey systems. Operating out of their family home as the sole staff member for a number of years, it was Helen who oversaw the transition of Optech into a highly-successful business with more than 300 staff. Together they built a successful international business, which developed LIDAR technologies now used around the world and in space. They also established the Carswell Family Foundation.
York University President and Vice-Chancellor Rhonda L. Lenton thanked Professor Carswell and his family for their important gift.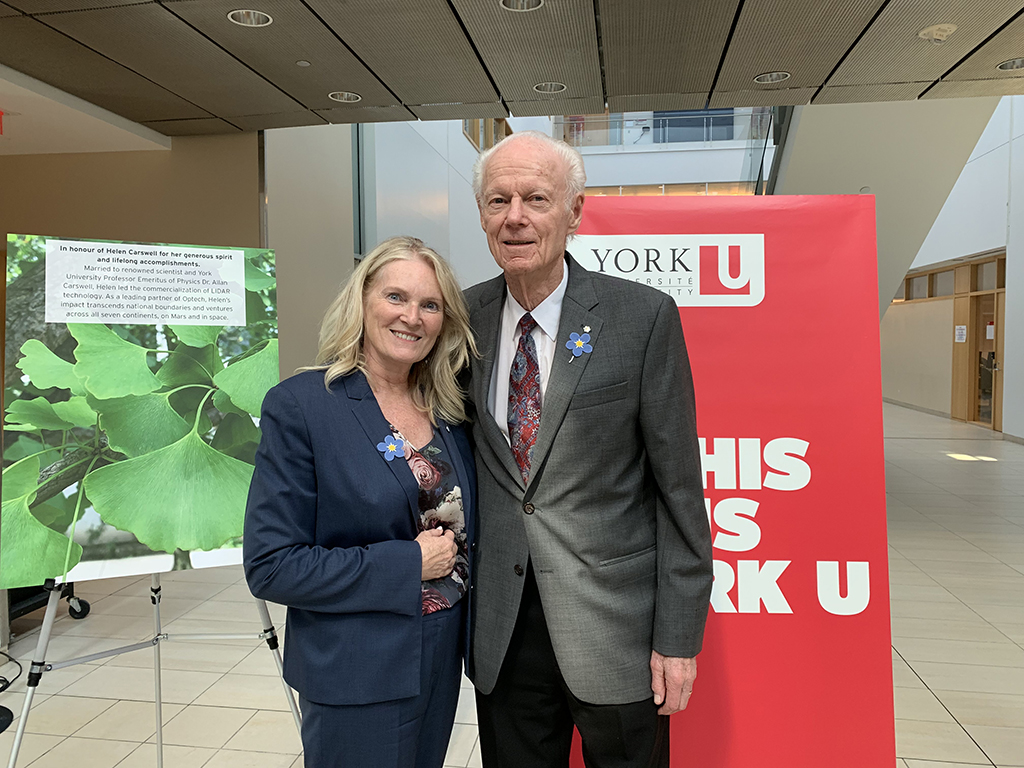 "This new partnership between York University and the Alzheimer Society of York Region will enable us to lead the way in dementia care research and its application. By collaborating with partners in the community, we are able to combine our strengths and expertise, greatly increasing the impact of our work. Importantly, the partnership also provides research opportunities and other types of experiential education for our students, enhancing innovation and better equipping them to serve our communities in the future," said Lenton.
Loren Freid, chief executive officer of the Alzheimer Society of York Region, said his organization is excited that York University is establishing a Chair in Dementia Care.
"We hope this partnership will further validate the good work that is being done in our programming, and will help to support future initiatives," Freid says. "The research of an endowed Chair and graduate students will provide expertise in dementia care that can be shared across the province and across Canada."
York University champions new ways of thinking that drive teaching and research excellence. Our students receive the education they need to create big ideas that make an impact on the world. Meaningful and sometimes unexpected careers result from cross-disciplinary programming, innovative course design and diverse experiential learning opportunities. York students and graduates push limits, achieve goals and find solutions to the world's most pressing social challenges, empowered by a strong community that opens minds. York U is an internationally recognized research university – our 11 faculties and 25 research centres have partnerships with 200+ leading universities worldwide. Located in Toronto, York is the third largest university in Canada, with a strong community of 53,000 students, 7,000 faculty and administrative staff, and more than 300,000 alumni.
York U's fully bilingual Glendon Campus is home to Southern Ontario's Centre of Excellence for French Language and Bilingual Postsecondary Education.
Media Contact: Janice Walls, York University Media Relations, 416-455-4710, wallsj@yorku.ca