TORONTO, January 29, 2019 – At a time when companies in the creative industries face increasingly complex business challenges, driven by changes in technology, media consumption and consumer preferences, top talent is essential to helping them navigate the evolving landscape and develop solutions that help build brands, generate revenue and stay ahead of the competition.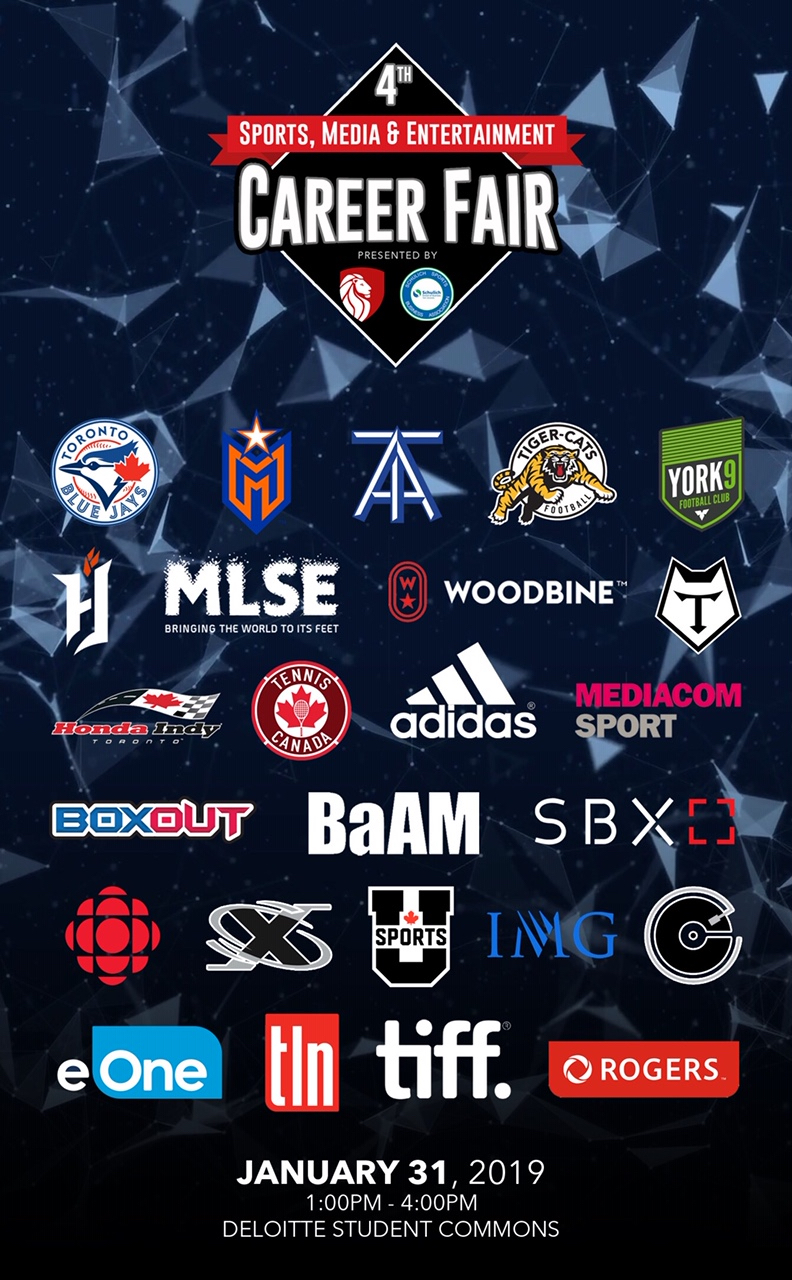 The fourth annual Sports, Media & Entertainment Career Fair at Schulich School of Business is the only event of its kind in Canada and will showcase career opportunities in the ultra-competitive, and passion-driven creative industries. It will provide students with access to a variety of opportunities (i.e. summer internship, contract, entry-level and leadership development programs) at some of the leading companies in Canada. For Schulich students, the Fair represents a real and tangible link between academia and career opportunities.
This year's edition is poised to set a Fair record with 24 companies expected to participate. MLSE, TIFF, adidas, Entertainment One, IMG, Tennis Canada, Rogers Media and Woodbine Entertainment are some of the industry-leading companies showcasing opportunities across various functions including Accounting, Finance, Marketing, Business Development, Analytics/Business Intelligence, Administration, and more.
The Fair's founder, Schulich School of Business Marketing Instructor Vijay Setlur, is available for interviews.
What: 4th annual Sports, Media and Entertainment Career Fair
When: January 31, 2019 at 1 p.m. to 4 p.m. EST
Where: Deloitte Student Commons, Schulich School of Business,
York University, 111 Ian MacDonald Blvd., North York
York University champions new ways of thinking that drive teaching and research excellence. Our students receive the education they need to create big ideas that make an impact on the world. Meaningful and sometimes unexpected careers result from cross-disciplinary programming, innovative course design and diverse experiential learning opportunities. York students and graduates push limits, achieve goals and find solutions to the world's most pressing social challenges, empowered by a strong community that opens minds. York U is an internationally recognized research university – our 11 faculties and 25 research centres have partnerships with 200+ leading universities worldwide. Located in Toronto, York is the third largest university in Canada, with a strong community of 53,000 students, 7,000 faculty and administrative staff, and more than 300,000 alumni.
York U's fully bilingual Glendon Campus is home to Southern Ontario's Centre of Excellence for French Language and Bilingual Postsecondary Education.
To attend or book an interview contact: Anjum Nayyar, York University Media Relations, 416 736 2100 ext. 44543 anayyar@yorku.ca