TORONTO, Wednesday, Oct. 17, 2018 – New Black Studies programs and research that focus on culture, history, literature and music will be launched at York University, tomorrow, Oct. 18.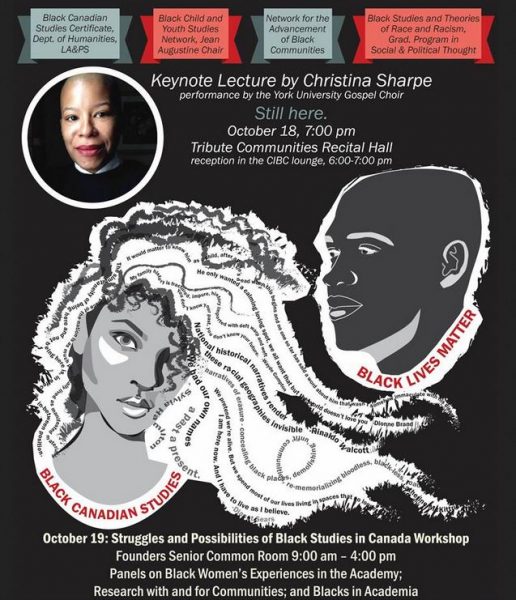 The launch will feature a variety of events over two days, including a workshop, panel discussions, music performance and a reception.
The events are sponsored by the Faculty of Liberal Arts & Professional Studies, the Faculty of Education, the School of Arts, Media, Performance & Design, and the Robarts Centre for Canadian Studies.
WHAT: Launch: New Programs & Research in Black Studies at York
WHERE:
Day 1: The Tribute Communities Recital Hall, Room 112, Accolade East Building, York University Keele campus (building number 92 on the map)
Day 2: Room 305, Founders College, York University Keele campus (building number 50 on the map)
PROGRAM:
Day1 (Oct. 18, 6pm-9:30pm):
Reception
Professor Christina Sharpe, Faculty of Liberal Arts & Professional Studies, York University (keynote lecture)
York University Gospel Choir performance directed by Karen Burke
Spoken word by Kareem Bennett
Jazz solo performance by Kavya Rajith
 Day 2 (Oct. 19, 9am-4pm),
Struggles and Possibilities of Black Studies in Canada Workshop
"Making the Invisible, Visible," panel on Black Women's Experiences in the Academy, 9:30am
"Tensions and Conflicts", panel on Research with and for Communities, 11:30am
"Navigating the Academy," panel on Blacks in Academia, 2:30pm
Note: Black Studies programs and research representatives are available for media interviews upon request
York University champions new ways of thinking that drive teaching and research excellence. Our students receive the education they need to create big ideas that make an impact on the world. Meaningful and sometimes unexpected careers result from cross-disciplinary programming, innovative course design and diverse experiential learning opportunities. York students and graduates push limits, achieve goals and find solutions to the world's most pressing social challenges, empowered by a strong community that opens minds. York U is an internationally recognized research university – our 11 faculties and 25 research centres have partnerships with 200+ leading universities worldwide. Located in Toronto, York is the third largest university in Canada, with a strong community of 53,000 students, 7,000 faculty and administrative staff, and more than 300,000 alumni. York U's fully bilingual Glendon Campus is home to Southern Ontario's Centre of Excellence for French Language and Bilingual Postsecondary Education.
Media contact:
Gloria Suhasini, York University Media Relations, 416-736-2100 ext. 22094, suhasini@yorku.ca