Summer Student Research and Mentorship Program concludes with 70-student showcase
TORONTO, ON, Tuesday, August 14, 2018— From building satellites to parts for human implants, 70 grade 11 female students will present their final research projects on Wednesday to parents, faculty, fellow Lassonde School of Engineering students and members of industry.  The showcase is part of their experiential learning in a newly-expanded mentorship program this summer.
Selected high school students worked on 17 exciting projects currently underway at York's on-campus laboratories. Projects include: green walls, permeable pavements to reduce flooding, medical sensors, concrete to withstand severe climatic exposures, cameras to predict human and environmental behaviour, safe stadiums for human behaviour during fires and innovative tech commercialization ideas.
The expanded program this year is supported by a $160,000 donation from the Carswell Family Foundation, continued support from Association of Ontario Land Surveyors (AOLS) and a donation from computer engineering alumnus Abdullah Merei (BASC '09; MBA '15).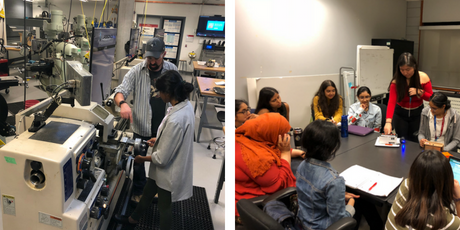 Hosted by the Lassonde School of Engineering, the student showcase will be held in the main café in York University's Bergeron Centre on the Keele campus on Wednesday August 15, 2018 at 9am. Students will share one-minute presentations. Representatives of industry will also attend.
What: Young Women Summer Research & Mentorship Program Showcase
When: Wednesday August 15, 2018
9:00 a.m. - 12:00 p.m. - Student presentations
12:00 p.m. - 1:30 p.m. - Poster session and lab tours
Where: Bergeron Centre Café (Building 81 on Keele Campus)
Who: Presentations from 70 students from 44 different high schools and over 11 urban areas in the Greater Toronto Area.
Other guests will include:
Allan Carswell, President, Carswell Family Foundation, Program Donor, Maureen Mountjoy, Deputy Registrar, Association of Ontario Land Surveyors, Program Donor, Abdullah Merei, Lassonde grad, Program Donor, Lisa Philipps, Provost, York University, Alice Pitt, Vice Provost, York University
York University is known for championing new ways of thinking that drive teaching and research excellence. Our students receive the education they need to create big ideas that make an impact on the world. Meaningful and sometimes unexpected careers result from cross-discipline programming, innovative course design and diverse experiential learning opportunities. York students and graduates push limits, achieve goals and find solutions to the world's most pressing social challenges, empowered by a strong community that opens minds. York U is an internationally recognized research university – our 11 faculties and 26 research centres have partnerships with 200+ leading universities worldwide. Located in Toronto, York is the third largest university in Canada, with a strong community of 53,000 students, 7,000 faculty and administrative staff, and more than 295,000 alumni.
York U's fully bilingual Glendon campus is home to Southern Ontario's Centre of Excellence for French Language and Bilingual Postsecondary Education.
Media: For interviews or to attend, please contact Anjum Nayyar, York University Media Relations, 416 736 2100 ext. 44543 anayyar@yorku.ca