Scientists from Lassonde School of Engineering's Planetary Volatiles Laboratory at York University will be hosting the simulation and talks at the Ontario Science Centre.
TORONTO, Wednesday, July 25, 2018 – As Mars moves the closest to Earth it has been in 15 years, the Lassonde School of Engineering's Planetary Volatiles Laboratory at York University will host a Rover Exploration Challenge July 28 and 29 at the Ontario Science Centre.
"It's a chance for people ages 8 and up to experience what it's like to be a space scientist or engineer," said Lassonde Assistant Professor John Moores.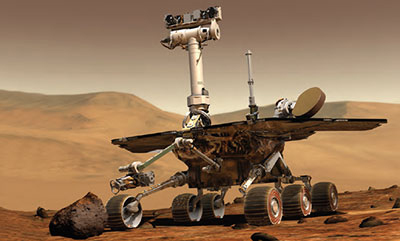 Participants will work as a team to remotely operate an analogue rover in a simulated mission, exploring a mystery planet using instruments similar to what is used on rover missions to Mars.
There will also be two talks by scientists from the Planetary Volatiles Laboratory on the history of exploration and latest discoveries on the red planet.
WHAT: A Rover Exploration Challenge
WHO: Assistant Professor of space engineering John Moores (12:30pm) and Post-doctoral Fellow Christina Smith (1:30pm) will give talks on about the robotic missions to Mars and the latest research and discoveries on the red planet.
WHEN: Saturday, July 28 and Sunday, July 29
WHERE: Ontario Science Centre, 770 Don Mills Road (at the corner of Eglinton Avenue East), Toronto
For more information: https://www.ontariosciencecentre.ca/Calendar/385/
-30-
About York University
York University is known for championing new ways of thinking that drive teaching and research excellence. Our students receive the education they need to create big ideas that make an impact on the world. Meaningful and sometimes unexpected careers result from cross-discipline programming, innovative course design and diverse experiential learning opportunities. York students and graduates push limits, achieve goals and find solutions to the world's most pressing social challenges, empowered by a strong community that opens minds. York U is an internationally recognized research university – our 11 faculties and 26 research centres have partnerships with 200+ leading universities worldwide. Located in Toronto, York is the third largest university in Canada, with a strong community of 53,000 students, 7,000 faculty and administrative staff, and more than 300,000 alumni. York U's fully bilingual Glendon campus is home to Southern Ontario's Centre of Excellence for French Language and Bilingual Postsecondary Education. 
Media Contact:
Sandra McLean, York University Media Relations, 416-736-2100 ext. 22097, sandramc@yorku.ca