TORONTO, June 21, 2018 – York University bestowed an honorary degree today on James Temerty, an inspiring leader in technology and clean energy development who is also dedicated to his cultural community and philanthropy. Temerty received the honorary doctor of laws during the Spring Convocation ceremony for the Faculty of Science and the Lassonde School of Engineering.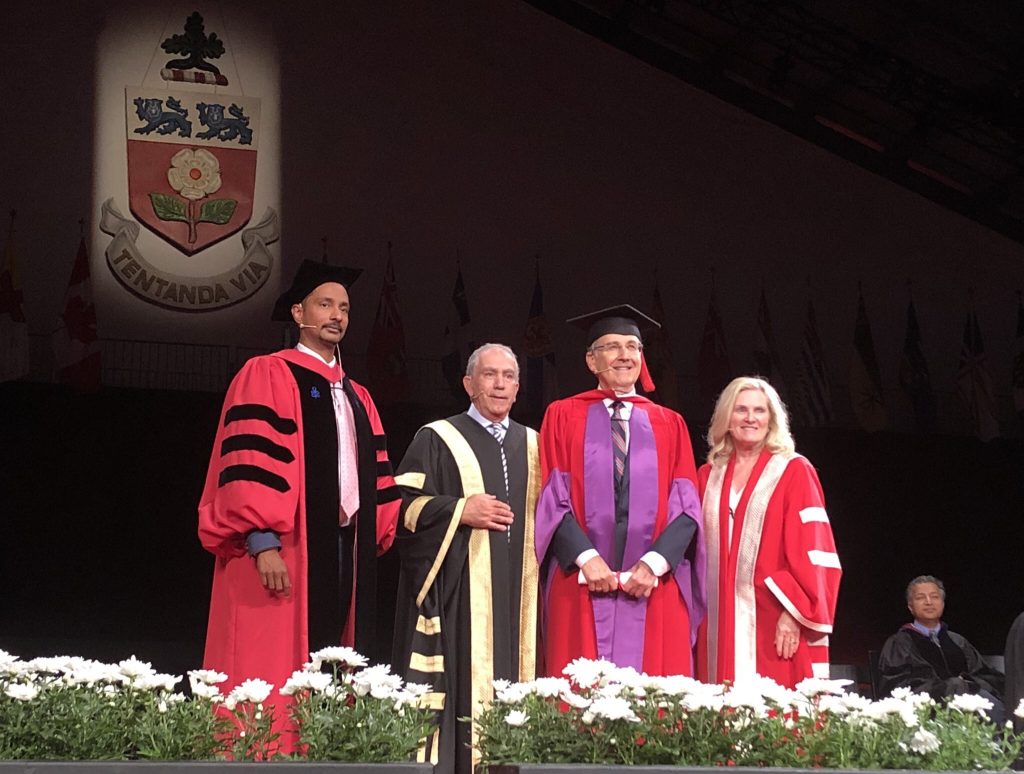 Born in the Ukraine, Temerty's family moved in Canada in 1950. He worked for IBM before launching an entrepreneurial career starting with a franchise of ComputerLand, which he built into the largest chain of ComputerLand stores in the world. This was followed by the founding of Northland Power, which operates wind, solar and thermal electric power facilities across Canada and Europe, and today enjoys an enterprise value of $12 billion. He was also instrumental in the formation of SoftChoice Corporation.
Always cognizant of his roots, Temerty devotes time to supporting the Holodomor Research and Education Centre, founding the Ukrainian Jewish Encounter Initiative, and chairing the National Advisory Council for the Ukrainian Canadian Congress. His philanthropic activities have benefitted the Royal Ontario Museum, the Royal Conservatory of Music, Sunnybrook Hospital, the Centre for Addiction and Mental Health, the Ukrainian Catholic University, and many other causes.
He was appointed a Member of the Order of Canada in 2008 and named Canada's Entrepreneur of the Year in 2010 by Ernst and Young. In 2015, he was honoured with Ukraine's Order of Yaroslav the Wise, which is the highest honour granted in Ukraine to an individual who has not been head of state.
Dedicated to green energy, technological advancements, and giving back to the community, James Temerty is a corporate leader and a cornerstone of responsible society.
York University champions new ways of thinking that drive teaching and research excellence. Our students receive the education they need to create big ideas that make an impact on the world. Meaningful and sometimes unexpected careers result from cross-disciplinary programming, innovative course design and diverse experiential learning opportunities. York students and graduates push limits, achieve goals and find solutions to the world's most pressing social challenges, empowered by a strong community that opens minds. York U is an internationally recognized research university – our 11 faculties and 25 research centres have partnerships with 200+ leading universities worldwide. Located in Toronto, York is the third largest university in Canada, with a strong community of 53,000 students, 7,000 faculty and administrative staff, and more than 300,000 alumni. York U's fully bilingual Glendon Campus is home to Southern Ontario's Centre of Excellence for French Language and Bilingual Postsecondary Education.
Media Contact: Janice Walls, Media Relations, York University, 416 455 4710, wallsj@yorku.ca