TORONTO, Thursday, April 19, 2018 – How does an institution like York University become one of Canada's Greenest Employers for the sixth consecutive time? By reducing annual electrical consumption by 34,730,786 kWh, saving $5M in utilities every year, and recycling 3,705,780 kg of waste, for starters.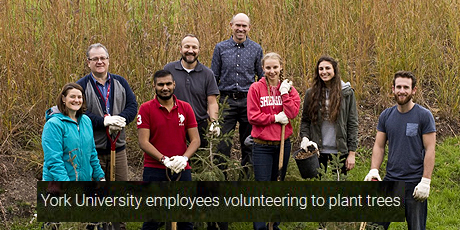 In the 11 years since the Canada's Greenest Employers competition began, York has landed on the list of Canada's Top 100 Employers for sustainability initiatives more than half the time. York is one of only eight out of close to 100 universities across Canada to win a spot at the top.
As a leader in sustainability, the University has embarked on several environmentally friendly initiatives that alter the footprint of campus buildings, such as five green roofs, the use of PV solar panels, the collection of rainwater, a solar powered electric vehicle charging station, and the LEED Gold certified Bergeron Centre for Engineering Excellence. Three more buildings are also LEED certified.
York's sustainability highlights:
As a long-time member of Smart Commute, York has successfully reduced the use of single occupant vehicles to campus from 70 per cent to 20 per cent;
York's ZeroWaste program diverts 68 per cent of waste from landfills;
York has the largest and first of its kind Faculty of Environmental Studies;
The new Eco Campus in Costa Rica next to the largest rainforest ecosystem in Centre America;
York offers more than 500 courses that relate to environmental and sustainability studies;
22 kilometres of walking paths and more than 200 gardens, including the 2,000-sq-ft Maloca Community Garden; and
Water refill stations across the University replaced disposable water bottles.
For more, read the York University Sustainability Report.
York University champions new ways of thinking that drive teaching and research excellence. Our students receive the education they need to create big ideas that make an impact on the world. Meaningful and sometimes unexpected careers result from cross-disciplinary programming, innovative course design and diverse experiential learning opportunities. York students and graduates push limits, achieve goals and find solutions to the world's most pressing social challenges, empowered by a strong community that opens minds. York U is an internationally recognized research university – our 11 faculties and 25 research centres have partnerships with 200+ leading universities worldwide. Located in Toronto, York is the third largest university in Canada, with a strong community of 53,000 students, 7,000 faculty and administrative staff, and more than 300,000 alumni. York U's fully bilingual Glendon Campus is home to Southern Ontario's Centre of Excellence for French Language and Bilingual Postsecondary Education.
Background:
Canada's Greenest Employers is part of the Canada's Top 100 Employers project managed by Mediacorp Canada Inc. Learn more about the full list of winners.
Media Contact:
Sandra McLean, York University Media Relations, 416-736-2100 ext. 22097, sandramc@yorku.ca