TORONTO, Thursday, Feb. 8, 2018 – The federal government has proposed changes to how it will do environmental assessments in the future through the creation of a single agency responsible for reviewing major energy projects, including pipelines.
Currently, three agencies do environmental assessments, but under the new legislation, those agencies would regulate projects over the long run and only do joint assessments with the single agency.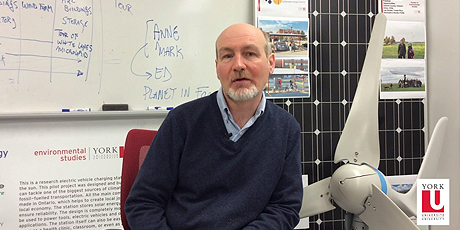 Faculty of Environmental Studies Professor Mark Winfield, Coordinator of the Joint Program in Law and Environmental Studies at York University, can comment on the implications of the new legislation for the review of major projects, the federal government's "duty to consult" with indigenous peoples, and Canada's climate change strategies.
Winfield has been involved in the federal Environmental and Regulatory Review Process since its beginning. He made submissions to the Expert Panel on Environmental Assessment Reform, and was the author of a discussion paper on the federal environmental approvals process for major projects, like pipelines, for the Metcalf Foundation.
-30-
York University champions new ways of thinking that drive teaching and research excellence. Our students receive the education they need to create big ideas that make an impact on the world. Meaningful and sometimes unexpected careers result from cross-disciplinary programming, innovative course design and diverse experiential learning opportunities. York students and graduates push limits, achieve goals and find solutions to the world's most pressing social challenges, empowered by a strong community that opens minds. York U is an internationally recognized research university – our 11 faculties and 25 research centres have partnerships with 200+ leading universities worldwide. Located in Toronto, York is the third largest university in Canada, with a strong community of 53,000 students, 7,000 faculty and administrative staff, and more than 300,000 alumni. York U's fully bilingual Glendon Campus is home to Southern Ontario's Centre of Excellence for French Language and Bilingual Postsecondary Education.
Media Contact:
Sandra McLean, York University Media Relations, 416-736-2100 ext. 22097, sandramc@yorku.ca