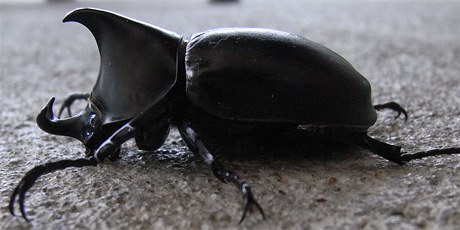 TORONTO, Monday, Jan. 29, 2018 – The majority of research on insects is unscientific because it is not reproducible. That's because the methods used to identify the organisms being studied are almost never stated in sufficient detail to allow others to replicate the research, at least according to a survey just published by biologists from York University of more than 550 research papers from 2016.
The survey calls into question the scientific merit of up to 98 per cent of entomological research, the study of insects, says York University biology Professor Laurence Packer of the Faculty of Science.
The York U study looked at how easy it would be to repeat the identifications of insects studied in 567 papers published in nine entomological journals. The most important procedures required to make identifications reproducible are; explicit statements on how the insects were identified, what the authors understand the species names to mean and whether their specimens are available for future study by other scientists.
What the researchers found is that less than one third of the papers stated how the insects were identified, less than one in ten explained how the authors interpreted the identifications and less than one quarter mentioned specimens were available for future study.
All three factors together were provided less than two per cent of the time, while close to two-thirds of all papers provided none of the information.
"The problem is that without details on the identification methods used and long-term storage of specimens the studies are impossible to replicate," says Packer. "Replicable taxonomic identification is the cornerstone of biology and when this is not provided the research becomes unscientific."
The study authors suggest that journals need to ensure this information is provided before the research is published.
The paper was published in the January issue of the journal, Insect Conservation and Diversity, by the Royal Entomological Society.
-30-
York University champions new ways of thinking that drive teaching and research excellence. Our students receive the education they need to create big ideas that make an impact on the world. Meaningful and sometimes unexpected careers result from cross-disciplinary programming, innovative course design and diverse experiential learning opportunities. York students and graduates push limits, achieve goals and find solutions to the world's most pressing social challenges, empowered by a strong community that opens minds. York U is an internationally recognized research university – our 11 faculties and 25 research centres have partnerships with 200+ leading universities worldwide. Located in Toronto, York is the third largest university in Canada, with a strong community of 53,000 students, 7,000 faculty and administrative staff, and more than 300,000 alumni. York U's fully bilingual Glendon Campus is home to Southern Ontario's Centre of Excellence for French Language and Bilingual Postsecondary Education.
Media contact:
Sandra McLean, York University Media Relations, 416-736-2100 ext. 22097, sandramc@yorku.ca