TORONTO, Monday, November 13, 2017 ─Just because you're living with type 1 diabetes (T1D) doesn't mean you can't challenge yourself when it comes to physical activity. York University Faculty of Health Professor Michael Riddell is not only an exercise researcher but has also been living with T1D since he was 14 years old.
From climbing to the peak of Mount Kilimanjaro to making his way along Peru's Machu Pichu trail, he's never given up his desire to live an active life.
Now, as a global expert on exercise metabolism and stress physiology, and as a parent of a newly diagnosed adolescent with T1D, Professor Riddell continues to motivate and educate on the benefits and challenges of being physically active while living with diabetes.
Professor Riddell will lead a Facebook Live event for #WorldDiabetesDay with the JDRF Canada on November 14 at 8pm EST. During the live chat, he will discuss strategies for controlling blood glucose levels with exercise in diabetes, the studies he is overseeing at York University and at LMC Diabetes & Endocrinology on exercise management and T1D and his work on developing a novel drug that helps prevent low blood sugar (hypoglycemia).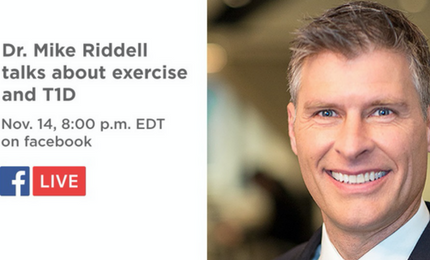 Professor Riddell is also available for interviews on World Diabetes day and the rest of this week.
What: Facebook Live Event
When: World Diabetes Day, November 14 at 8pmEST
Where: JDRF Canada FB page
For Media interviews with Professor Riddell: please contact Anjum Nayyar, York University Media Relations, 416 736 2100 ext. 44543 anayyar@yorku.ca
York University is known for championing new ways of thinking that drive teaching and research excellence. Our students receive the education they need to create big ideas that make an impact on the world. Meaningful and sometimes unexpected careers result from cross-discipline programming, innovative course design and diverse experiential learning opportunities. York students and graduates push limits, achieve goals and find solutions to the world's most pressing social challenges, empowered by a strong community that opens minds. York U is an internationally recognized research university – our 11 faculties and 26 research centres have partnerships with 200+ leading universities worldwide. Located in Toronto, York is the third largest university in Canada, with a strong community of 53,000 students, 7,000 faculty and administrative staff, and more than 295,000 alumni. York U's fully bilingual Glendon campus is home to Southern Ontario's Centre of Excellence for French Language and Bilingual Postsecondary Education.