In Gary Geddes' book, the dark past of Indigenous healthcare is revealed
TORONTO, Tuesday, Oct. 31, 2017 – Testimony from the Truth and Reconciliation Commission inspired author Gary Geddes to write Medicine Unbundled and will inspire a public conversation at York University.
Geddes, an award-winning author and poet from B.C.'s Thetis Island, takes a historical look at the impact of life for members of First Nations in segregated Indigenous hospitals, including abuse, neglect and medical experiments. Geddes will hold a public conversation about his book and its persuasive account of some of the catastrophic impacts of Canadian government policies on the health of Canada's Indigenous community.
In support of York University's commitment to the Truth and Reconciliation project, York U's Faculty of Health and the Department of English are jointly sponsoring Geddes' talk entitled, "The Politics of Disease: Indigenous Health Care, a Genocide by Any Other Name" on November 1. He will discuss his critically acclaimed book Medicine Unbundled: A Journey through the Minefields of Indigenous Health Care.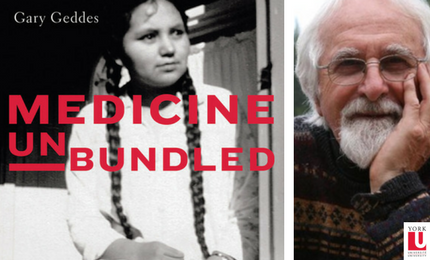 Geddes has written and edited close to 50 books of poetry, fiction, drama, non-fiction, criticism, translation, and anthologies. He is the recipient of several national and international literary awards, including the Commonwealth Poetry Prize (Americas Region), the fifth annual Lieutenant Governor's Award for Literary Excellence, and the Gabriela Mistral Prize from the government of Chile, awarded simultaneously to Octavio Paz, Vaclav Havel, Ernesto Cardenal, Rafael Alberti and Mario Benedetti.
WHAT: A Public event: The Politics of Disease: Indigenous Health Care, a Genocide by Any Other Name
WHO:  Gary Geddes, co-sponsored by the Faculty of Health and the Department of English
WHEN: Wed. Nov. 1, 2017, Author Talk 5:00-6:30pm, Book Signing 6:30-7:30pm.
WHERE:  Life Sciences Building Room 105, #90 on MAP
Media: Please RSVP to Anjum Nayyar, York University Media Relations, 416 736 2100 ext. 44543 anayyar@yorku.ca
York University is known for championing new ways of thinking that drive teaching and research excellence. Our students receive the education they need to create big ideas that make an impact on the world. Meaningful and sometimes unexpected careers result from cross-discipline programming, innovative course design and diverse experiential learning opportunities. York students and graduates push limits, achieve goals and find solutions to the world's most pressing social challenges, empowered by a strong community that opens minds. York U is an internationally recognized research university – our 11 faculties and 26 research centres have partnerships with 200+ leading universities worldwide. Located in Toronto, York is the third largest university in Canada, with a strong community of 53,000 students, 7,000 faculty and administrative staff, and more than 295,000 alumni. York U's fully bilingual Glendon campus is home to Southern Ontario's Centre of Excellence for French Language and Bilingual Postsecondary Education.