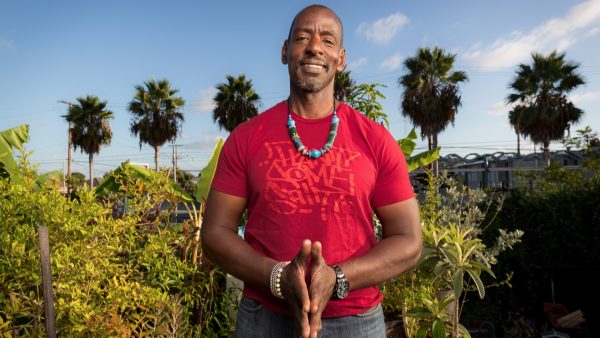 TORONTO, Thursday, October 20, 2017 – Armed with a shovel, some soil and seeds, Los Angeles activist Ron Finley, self-described "gangsta gardener" for his unexpected tactics, will discuss his mission of turning "food prisons into food forests" at York University's Faculty of Environmental Studies on Oct. 20.
Frustrated by his community's lack of access to fresh, organic food, Finley inadvertently started a revolution when he turned the parkway, strip of land beyond the sidewalk in front of his South Central L.A. home, into an edible garden. He also plants edibles in abandoned lots, traffic medians and along the curbs. When the city cited him for his plantings, Finley started a bureaucratic battle, gathering signatures and working with local officials until city ordinances were altered to include edibles.
This event is hosted by the Faculty of Environmental Studies at York University in partnership with Planet in Focus, Tridel / The Bowery Project, The Purple Co, Black Creek Community Farm and FoodShare.
WHAT: Conversation with Ron Finley, artist, revolutionary and self-described "gangsta gardener"
WHEN: 2:30 to 4pm, Friday, Oct. 20
WHERE: 140 Health, Nursing and Environmental Studies Building, Keele campus (See number 31 on Map)
Link to TED Talk by Ron Finely: https://www.ted.com/talks/ron_finley_a_guerilla_gardener_in_south_central_la
INTERVIEWS: Ron is available for interviews Friday morning.
-30-
York University is known for championing new ways of thinking that drive teaching and research excellence. Our students receive the education they need to create big ideas that make an impact on the world. Meaningful and sometimes unexpected careers result from cross-discipline programming, innovative course design and diverse experiential learning opportunities. York students and graduates push limits, achieve goals and find solutions to the world's most pressing social challenges, empowered by a strong community that opens minds. York U is an internationally recognized research university – our 11 faculties and 26 research centres have partnerships with 200+ leading universities worldwide. Located in Toronto, York is the third largest university in Canada, with a strong community of 53,000 students, 7,000 faculty and administrative staff, and more than 295,000 alumni. York U's fully bilingual Glendon campus is home to Southern Ontario's Centre of Excellence for French Language and Bilingual Postsecondary Education.
Media Contact:
Sandra McLean, York University Media Relations, 647-654-9452, sandramc@yorku.ca