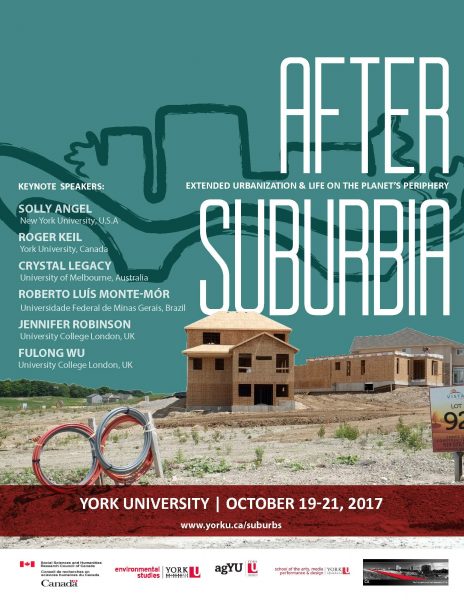 TORONTO, Monday, October 16 – Around the world suburbs have danced on the edges of cities commanding ever greater roles. As more attention is placed on governance and maturing of these spaces, many are becoming vibrant areas of economic growth and culture. Learn more about the rise of suburbs at the MCRI Global Suburbanisms conference After Suburbia: Extended Urbanizaton and Life on the Planet's Periphery at York University, Oct. 19 to 21.
The conference has speakers from around the world discussing the changing nature of suburbanization. It has sessions on suburban populism, governance, the changing nature of land and infrastructure in the periphery, a suburban mayors' panel, art exhibits and a theatre performance.
The following are some of the highlights:
Thursday, Oct. 19
5:30pm, Tribute Recital Hall, Accolade East Building, Keele campus – City planning Professor Solly Angel, Director of the NYU Urban Expansion Program at the Marron Institute of Urban Management and the Stern School of Business at New York University, will discuss urban expansion in the opening keynote. Angel is the co-author of several books, including of Atlas of Urban Expansion (2016).
7:30pm, Art Gallery of York University, East Accolade Building – An Artist Talk & Tour for the exhibit Migrating the Margins. The exhibit explores how Toronto art is evolving after decades of immigration and life in the suburbs, and how the artists in and of the urban periphery are reimagining art.
Friday, Oct. 20
Underground Restaurant, Student Centre, Keele campus
Noon to 12:45pm – Economics Professor Roberto Luís Monte-Mór  of the Federal University of Minas Gerais in Brazil will give a keynote, titled Extended Urbanization, Urban Utopias and Other Economies.
12:45 to 2pm – A Mayors Panel with Bob Burton of Oakville, Linda Jeffrey of Brampton, Jeff Lehman of Barrie and Steve Parish of Ajax. They will be joined by Toronto planning consultant Sean Hertel of the Greater Toronto Suburban Working Group and the City Institute at York University. The mayors will discuss governing the changing urban periphery as the towns and cities that make up the suburbs of Toronto now contain most of the region's population and economic growth and as they become more central to sociocultural identity and prosperity of one of the world's pre-eminent regions.
2 to 2:45pm – Keynote by Jennifer Robinson, Comparative Suburban Research.
Saturday October 21
Noon to 12:45pm, 140 Health, Nursing & Environmental Studies Building – Keynote by Fulong Wu, London, on Suburban Governance.
12:45 to 2pm, Zig Zag Gallery, 136 Health, Nursing & Environmental Studies Building, Keele campus – A photography and data visualization exhibition on Urban Growth on the Periphery: Land, Urban Form, Infrastructure & Everyday Life. Created by Major Collaborative Research Initiative on Global Suburbanisms (MCRI) researchers Ute Lehrer of York University's Faculty of Environmental Studies (FES), Markus Moos of University of Waterloo, and Robert Walter-Joseph of Weston Consulting.
2 to 2:45pm, 140 Health, Nursing & Environmental Studies Building – Keynote by Crystal Legacy, Melbourne, on Suburban Infrastructure.
4:30pm, 140 Health, Nursing & Environmental Studies Building – York University FES Professor Roger Keil, principal investigator of the MCRI and the author of the forthcoming book Suburban Planet, will give the closing keynote, After Suburbia: Peripheral Notes on Urban Theory.
For conference details: http://suburbs.info.yorku.ca/files/2017/02/After-Suburbia-Conference-Program_final.pdf
-30-
York University is known for championing new ways of thinking that drive teaching and research excellence. Our students receive the education they need to create big ideas that make an impact on the world. Meaningful and sometimes unexpected careers result from cross-discipline programming, innovative course design and diverse experiential learning opportunities. York students and graduates push limits, achieve goals and find solutions to the world's most pressing social challenges, empowered by a strong community that opens minds. York U is an internationally recognized research university – our 11 faculties and 26 research centres have partnerships with 200+ leading universities worldwide. Located in Toronto, York is the third largest university in Canada, with a strong community of 53,000 students, 7,000 faculty and administrative staff, and more than 295,000 alumni. York U's fully bilingual Glendon campus is home to Southern Ontario's Centre of Excellence for French Language and Bilingual Postsecondary Education.
Media Contact:
Sandra McLean, York University Media Relations, 647-654-9452, sandramc@yorku.ca